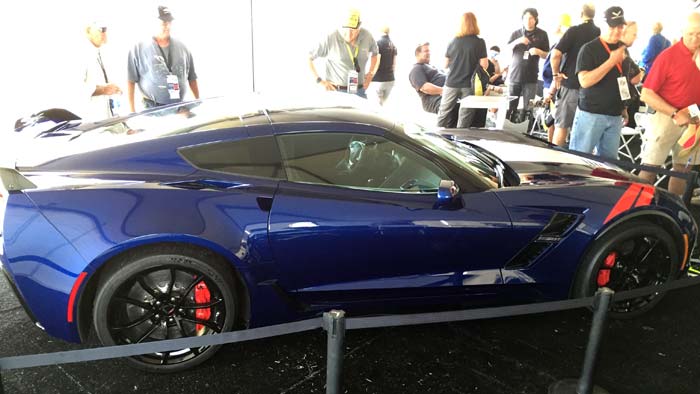 It's been a couple of years since Chevrolet has shown off a new Corvette model and unlike the previous launch of the C7 Stingray and Z06, the 2017 Corvette Grand Sport made its debut in Europe at the Geneva Motor Show just a couple weeks ago. So we were hoping that perhaps Chevy would have the Grand Sport on display over the weekend at Sebring and we were not disappointed.
Issues with our rent-a-car and then a long will-call line at Sebring stopped us from being able to video Corvette product manager Harlan Charles and Exterior Design Manger Kirk Bennion's talk in the corral early Saturday morning, but waiting for our arrival over in corner was a 2017 Corvette Grand Sport in the newly resurrected Admiral Blue.

The Corvette Grand Sport was presented in its traditional C4 1996 livery. Translated into C7, the Grand Sport featured a white heat extractor grill on the hood which was paired with a white hood stinger graphic. The single white stripe was then carried across the roof and rear hatch and ended on the top of the rear spoiler. Each front fender wore a set of red hash marks and of course the Corvette was wearing black aluminum wheels.
Unlike the base Admiral Blue Grand Sport we spotted on Chevy's website following the launch, this Grand Sport featured the Z07 Performance Package with the huge Brembo carbon ceramic brakes and Michelin's Pilot Sport Cup tires. Aerodynamics featured the painted rockers and front splitter and the winglets on the front were the smaller versions.

We did catch that production of the limited Collector's Edition version will come about midway through 2017's production while the regular Grand Sports will available almost immediately. The Collector Edition Grand Sport features the special Watkins Glen Gray with the Tension Blue hash stripes and interior and will be available as a 3LT model only.
We also learned that Chevrolet is working on some unique accessories for the Grand Sports including a special car cover that will be unveiled at the NCM Bash. So we are obviously looking forward to learning more about the Grand Sport and all its goodies next month in Bowling Green.

Related:
Harlan Charles Confirms the Return of Admiral Blue on 2017 Corvettes
Only 1,000 Corvette Grand Sport Collector Edition Models Will Be Offered
[VIDEO] Watch the Reveal of the 2017 Corvette Grand Sport from Geneva