We wonder if the workers at the General Motors assembly plant in Flint, Michigan had any idea what a historically significant car they were putting together on Christmas Eve, 1953.
That day, the very last of the 300 hand-built 1953 Corvettes rolled off the assembly line, with production of the 1954 model slated to move to an automated production line in St. Louis, Missouri.
No doubt those workers would be shocked to realize that the Corvette marquee would be going stronger than ever some 63 years later!
No. 300 of the 1953 Corvettes has lived a very pampered life for much of its life, and Evelyn and Jim Fasnacht will be offering their prized possession at no reserve during Barrett-Jackson's Scottsdale auction set for Jan. 23-31.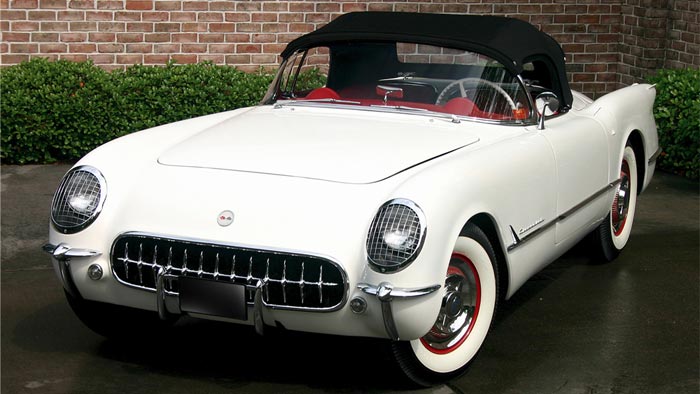 This car is well-known among Corvette enthusiasts and maintains its all-original body and trim parts, along with all of its original panels, chassis, and drivetrain components.
It is literally a rolling piece of automotive history!
The current owners bought the car in 1998 from another long-time owner and well-known enthusiast named Ernie Hendry of Florida.
Bloomington Gold/NCRS Master Judge Steve Newsom was recruited in 2007 to refurbish the "crazing" paint on the car and wound up doing a full frame-off restoration, with the top and interior restored by specialist John Kennedy.

The soon-to-be new owner of No. 300 will be the caretaker of a sports car that still has its mint original side windows, factory jack, manuals, several historic records, and a new-in-the-box original (never activated) tar-top battery.
As you would expect, the car has a long line of prestigious awards, including NCRS Duntov Award, NCRS Top Flight and Bloomington Gold, and Corvette Hall of Fame inductee. GM itself used the car in a World of Motion display in the early 1980s and No. 300 was also featured at Pebble Beach Concours d'Elegance in 2008 as part of the GM Centennial Celebration. It's also appeared in the Bloomington Gold Special Collection three times over the past 24 years.

If there's a Corvette that's worth a mint, this historic piece is no doubt it. The new owner should rightfully get ready to open his wallet deeply.
The VIN 300 1953 Corvette is Lot #1359 and will be offered on Saturday, January 30th. For auction details, visit www.Barrett-Jackson.com.

Source:
Barrett-Jackson

Related:
Today in Corvette History: GM Receives Registered Trademark for the Corvette
Happy Birthday Corvette! America's Favorite Sportscar Turns 62!
Corvette Made its First Public Appearance 62 Years Ago at the 1953 Motorama