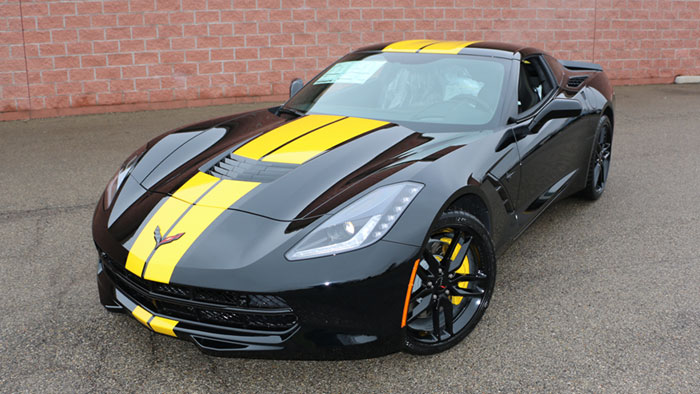 Photo Credits:
CorvetteConti.com

Late last year we learned that Chevrolet will be ending production on two of the ten colors for the 2016 Corvette – Night Race Blue and Daytona Sunrise Orange. And while we haven't heard anything concrete about what the replacement colors will be, we did learn from our friend Rick "Corvette" Conti at Coughlin Chevrolet of a new full length body stripe now being offered.
The new "Velocity Yellow" full-body racing stripe is so new that it doesn't yet show up on Chevrolet.com's Build Your Own Corvette configurator. Conti ordered a Black 2016 Corvette Stingray with the new yellow stripes and the car, most likely the first in the nation with the new colored stripe, just arrived at the Ohio-based Chevy dealership late last week.

This brings the number of single color full length body stripes being offered to six: Velocity Yellow, Blade Silver, Carbon Flash, Crystal Red, Cyber Gray and Inferno Orange.
There is a seventh full length body stripe which is the tri-color Red/White/Blue that is offered on the Twilight Blue Design Package but can be ordered as a stand alone option.
In addition to the Velocity Yellow Stripe, Conti further accessorized the the car by ordering the Stingray with matching yellow brake calipers, Yellow interior stitching and a Carbon flash Stingray emblem.

If you are interested in owning this Black/Yellow Z51 Stingray coupe, the MSRP is $79,565 and its being offered at the discounted price of $74,901. For more details, call Rick Conti at 800-755-3623 or visit him on the web at www.CorvetteConti.com.

Source:
CorvetteConti.com

Related:
[PICS] 2016 Corvette Stingray with a Genuine Corvette Accessories Ground Effects Kit
Color Changes are Coming Immediately to the 2016 Corvette
[PICS] Corvette Museum Delivers First 2016 Corvette Z06 C7.R Edition