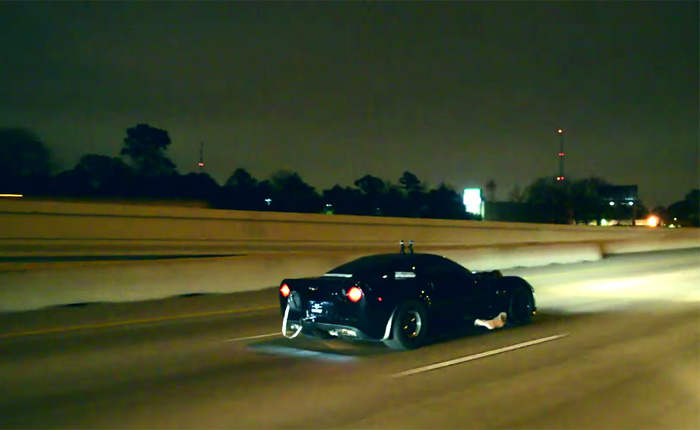 The idea of having a 650 horsepower C7 Z06 at your disposal is pretty awesome.
We're not sure if we'd be comfortable with this C6 packing a twin turbo that delivers a whopping 2,400 horsepower!
Just watch this video on a public road as the twin turbo C6 Corvette stays with traffic for a while, then blows them away for a few seconds with a quick punch of the accelerator.
Luckily for the driver, he was able to recover from a loss of traction without hurting himself or an innocent bystander.
Those twin turbines are so big they stick through the hood, letting everyone know how sinister this Corvette is, and watch for the flames coming out of them near the end of the video!
We're of the opinion that this monster of a Corvette should be limited to seeing action on a dragstrip or a race track – not on a public highway where someone could be hurt by his show of bravado.
With the parachute already attached to the back of the Corvette, it seems this one has been seeing action on a dragstrip, but are those drag radials enough to make it remain under control on a public road?

Source:
AutoEvolution.com

Related:
Former SEMA V7 Twin Turbo Corvette Concept Featured at Auction America's Fort Lauderdale Sale
[VIDEO] Sinister Twin Turbo C6 Corvette Runs 203 MPH in George Half Mile
[VIDEO] Nasty Twin Turbo Corvette Z06 Tears Up the Dragstrip