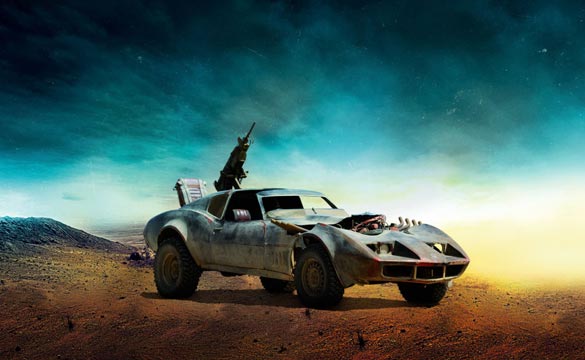 We're just a week away from the opening of the 2nd most anticipated car movie of 2015, Mad Max: Fury Road. We've been fans of the movie franchise since first seeing Mel Gibson and the Ford XB Falcon Interceptor in The Road Warrior back in the 1980's and while having a fourth installment of the post-apocalyptic car movie called is reason enough to celebrate, we just found out that a C3 Corvette will be one of the weaponized vehicles in film's reboot.
The Corvette is one of about 130 vehicles in the movie and we have no idea where it appears or if it plays a prominent role. The name of the vehicle is referred to as Buggy #9 and if you think this wacky mash-up of a Corvette Stingray body on top of a Holden truck chassis was made for the movies, keep on reading.
According to Road and Track, the car in real life is called the Perentti and its wicked mash-up came about in a customizing shop in Australia in the early 1970's:
Australian automotive history is filled with chapters that are both obscure and bizarre to American eyes. Case in point: the Perentti. Because the Corvette wasn't exported to Aussie Land and was left-hand-drive-only, in the early 1970s, the maniacs at a Sydney-based company called Custom Performance Modification decided to plant a copy of the C3 Corvette's fiberglass body atop the chassis of a Holden one-ton truck. But because the truck was 22 inches longer than the real Corvette and had a 120-inch wheelbase, the result was, well, strangely proportioned. It's kind of awesome but truly wacky. For the moviemakers, however, a Corvette built on a big, rugged truck frame offers several advantages. So Buggy #9 was created as sort of a last-days-of-disco-era Vette running through misery while chewing on a fistful of meth. And it should be enough to leave many North American gearheads leaving theaters muttering to themselves in a bewildered haze of confusion.
Here's the latest trailer for the film which stars Tom Hardy and Charlize Theron. The movie opens in the United States on May 15th:

Source:
Road and Track

Related:
[VIDEO] 1959 Corvette Featured in Sin City Movie Sequel
Does the World Need a Sequel to Corvette Summer?
Captain America: The Winter Soldier Opens Today