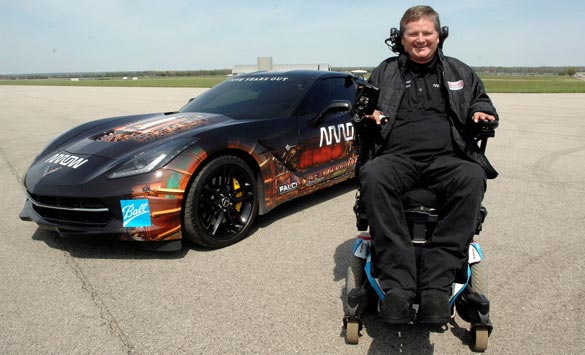 The tale of Sam Schmidt is inspiring on so many levels.
Schmidt, of course, is the former Indy driver who became a quadriplegic in 2000 after an accident at a Florida race track.
Fast forward to 2015, though, and Schmidt is miraculously back behind the wheel of a black Corvette C7 Stingray.
How did such a miracle happen?
Well, Schmidt can thank the research efforts of two companies, Colorado-based Arrow Electronics and Texas-based Freescale Semiconductor.
Researchers there continue to refine a system that allows Schmidt to control his Stingray with head movements and his own breath. He'll be testing the car, appropriately known as SAM (for semi-autonomous motorcar), at the Long Beach Grand Prix course at 11:19 a.m. Sunday. It'll be displayed during race weekend, too.
Schmidt has always been one to battle back.
Just a little over a year after being injured, he started his own racing company, now called Schmidt Peterson Motorsports.
He found out about the SAM Corvette in 2013 and has been excited ever since about the possibility of driving again.
"Frankly, after being injured 15 years ago, I never had any realistic hope of driving a car again," he said. "At the base, core level, it's great to, you know, sort of do something everybody takes for granted."
Four infrared cameras mounted at the top of the Corvette's windshield follow Schmidt's head movements – if he looks at a spot on the track, the car turns in that direction. He controls the speed of the Stingray with his breath, blowing into a special straw to go faster and inhaling to slow down.
"It's weird. You turn and it goes," Schmidt said. "Probably the most challenging thing is the mental focus. You can't drift around mentally. You've got to hope there aren't a lot of bikinis in the grandstand. That could be tragic."
Photo by John Valenzuela/The Sun
Schmidt's lap around the Long Beach course this weekend "is a real significant milestone for us," said the SAM Car project's nontechnical director, Joe Verrengia of Arrow.
It's also a significant – and emotional – milestone for Schmidt, who is getting a second chance at driving again thanks to technological advances.
We like the way Arrow Electronics engineer Will Pickard summed it up.
"Sam is a race car driver," he said. "He never stopped being one, he just didn't have a car to drive."
Now he does, and what a car it is!

Source:
presstelegram.com

Related:
Quadriplegic Race Car Driver Returns to the Track in a Semi-Autonomous Corvette Stingray
Corvette Racing at Long Beach: Riding Momentum Out West
[VIDEO] Go Behind the Scenes of the Rolex 24 at Daytona with Corvette Racing's Tommy Milner