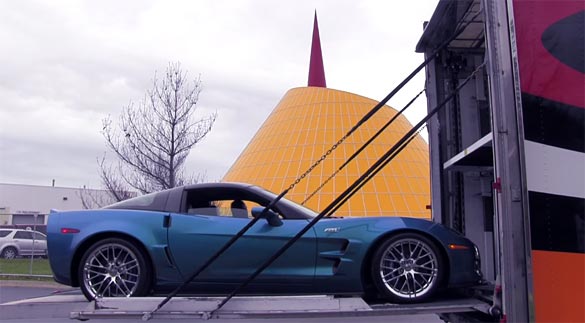 Last week at the SEMA Show in Las Vegas, the National Corvette Museum's Sinkhole was a topic of conversation for many Corvette enthusiasts but this time its in the news for all the right reasons. Chevrolet used the spotlight of SEMA to showcase the completed restoration of the 2009 Corvette ZR1 Blue Devil prototype that was damaged after falling into the sinkhole that opened up in the middle of the NCM's skydome in February.
The sinkhole at the NCM formed and swallowed eight Corvettes in the early morning hours of February 12th and I am sure no one will forget the photo of the 2009 Corvette ZR1 sitting on top of the pile roughly 30 feet below the floor. Nearly three weeks later in early March, the Corvette ZR1 was hoisted out of the sinkhole and to the delight of the workers and Museum staff, the prototype started and was driven outside under its own power.
Chevrolet picked up the Corvette ZR1 in September and the car was returned to Detroit where it underwent its rehab which took six weeks to complete.
Now that the SEMA Show is over, the Blue Devil prototype has returned to the National Corvette Museum in Bowling Green and will once again join the other "sinkhole" Corvettes on display.
The NCM filmed the arrival of the 2009 Corvette ZR1 Blue Devil Prototype and you can see the video below:
Of the eight Corvettes that fell into the sinkhole, only two others are currently slated for restoration. The 1992 One Millionth Corvette and the 1962 Black Roadster will be restored in 2015 and both will rejoin the Blue Devil back at the National Corvette Museum.

Source:
National Corvette Museum

Related:
[PICS] GM Reveals Restored 2009 Corvette ZR1 Blue Devil from NCM Sinkhole at SEMA
Corvette Museum Estimates Sinkhole Repairs to Cost $3.2 Million
General Motors to Restore Three of the NCM Sinkhole Corvettes