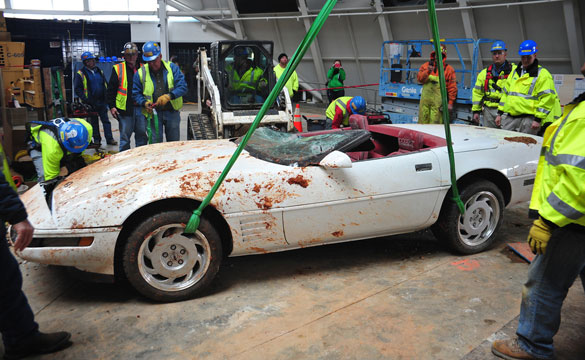 Work continued today on the sinkhole inside the National Corvette Museum after three of the eight Corvettes were rescuing earlier this week. Although the next recoveries were not expected to happen for a few weeks while the crew reinforces the Sky Dome Spire, the opportunity arose today to grab not one but two more Corvettes, the 1992 1 Millionth Corvette and the 1984 PPG Pace Car.
The first opportunity came a knocking after the large slap of concrete that was propping up the 1962 Corvette was removed. The crew looked at where the 1 Millionth Corvette was located and decided today offered the best chance to grab it.
"Initially there was no intention to bring the Millionth out, but as we got in there and saw more this morning we did feel like this might be our best chance," said Danny Daniel, President of Scott, Murphy and Daniel Construction.
The crew was able to pull the car by one wheel and then it swung free into the middle of the cavern. After setting it down on its top, the crew strapped up the driver side tires and pulled it to ground level.
"The Millionth Corvette has been through a lot, but the damage at first glance seems to be less extensive than what it could have been, especially given the precarious spot the car landed," said Bob Hellmann, Facilities and Displays Manager at the Museum. "The undercarriage and frame look to be in good condition and everything is repairable."
Check out the photos of the 1 Millionth Corvette rescued from the sinkhole:
The 1,000,000th Corvette was built on July 2, 1992 at the Bowling Green Assembly Plant. Wearing the VIN 1G1YY33PXN5119134, it was similarly outfitted in a white exterior and red interior like the very first Corvette made on June 30, 1953. Commemorating the event at the time the car was completed was retired Chief Corvette Engineer Zora Arkus-Duntov:
Here's the 1 Millionth Corvette being pushed into the Corvette Museum. Love to hear those cheers when the Corvette enters the building.

Source:
Corvette Museum
Photo Credits: National Corvette Museum
Related:
[VIDEO] 1962 Corvette Roadster Pulled from the Corvette Museum Sinkhole
[VIDEO] 2009 Corvette ZR1 Blue Devil Recovered from Corvette Museum Sinkhole
[VIDEO] Corvette Museum Recovers the 1993 40th Anniversary Corvette from Sky Dome Sinkhole
[VIDEO] The First of Eight Corvettes is Rescued from the Corvette Museum's Sinkhole
A Sinkhole Under the National Corvette Museum Opens and Swallows 8 Corvettes