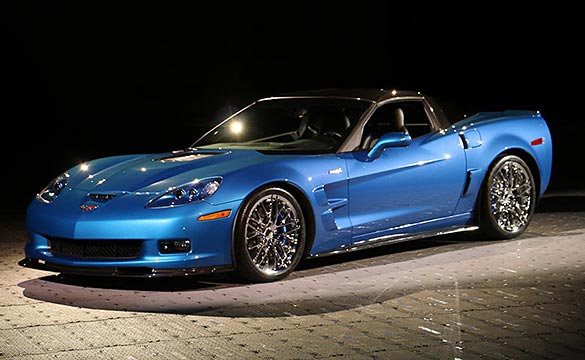 In the early morning hours of February 12th, a large sinkhole opened inside the Corvette Museum's Sky Dome and swallowed eight Corvettes. Nearly nine months later, General Motors has unveiled the restored 2009 Corvette ZR1 Blue Devil Show car for the 2014 SEMA show.
The 2009 Corvette ZR1 Blue Devil was one of two sinkhole Corvettes owned by GM that were on loan to the National Corvette Museum. The Blue Devil was the last Corvette to fall into the sinkhole, coming to rest on its four wheels about 30 feet below the structure's floor.
The recovery of the ZR1 was symbolic for various reasons. It was the first Corvette to be raised and its condition wasn't all that bad. In fact, once the car was raised out of the sinkhole, it was to be started and driven outside under its own power.
In the days following the Sinkhole, GM pledged to help with restoration of the cars. Although eight Corvettes fell into the sinkhole, only three of the vehicles, the 2009 ZR1, a 1962 Corvette and the 1992 1 Millionth Corvette were candidates for restoration. The other five will be come a permanent display in their recovered state to preserve the event.
"After that unprecedented event, the ZR1 was the first car to be lifted out of the sinkhole," said Jim Campbell, U.S. vice president, performance vehicles and motorsports. "It was great to recover it, bring it back to Chevrolet and begin the restoration of this significant Corvette."
GM picked up the Blue Devil in September and transported it back to Detroit for restoration. Damage to the car included:
Cracked carbon-fiber ground effects and a broken passenger-side rocker panel
Damaged passenger front fender, as well as cracks in both doors
Cracked windshield, hood window glass and passenger headlamp assembly
Bent rear control arms on the driver's side
Cracked oil lines to the supercharged LS9 engine's dry-sump oiling system.
The restoration of the Blue Devil ZR1 took only six weeks to complete. GM provided the following photos of the restoration process and then check out the video with Jim Campbell and members of the Chevrolet Performance Team were on hand to witness the official first start of the 2009 Corvette ZR1 Blue Devil at a special event at GM's Heritage Center.

Source:
Chevrolet

Related:
A Sinkhole Under the National Corvette Museum Opens and Swallows 8 Corvettes
[VIDEO] The First of Eight Corvettes is Rescued from the Corvette Museum's Sinkhole
[VIDEO] Behind the Scenes of the Corvette Recovery Operation at the National Corvette Museum