It's time to button up Operation Air Flow. In Episode 1 we installed a CORSA carbon fiber intake on our 2009 Corvette coupe with the help of our friends at Smokey's Dyno and Performance. Then in Episode 2 they helped us bolt on a CORSA Sport performance exhaust system. Prior to each episode we ran our C6 on the dyno at Smokey's so we could compare the stock horsepower and torque numbers to those after each component was installed. Now it's time to share the results.
The end goal of Operation Air Flow is to show you some easy ways to unlock some extra ponies from your ride. Then show you real world results on a real dyno so you can see just what each component contributes to the overall output.
To get things started we ran the car bone stock with all the factory bits still present. Right out of the box the car put down 372hp and 368ft-lbs of torque. That's a driveline loss of roughly 14% between the engine and rear wheels. Here are the curves from our baseline run.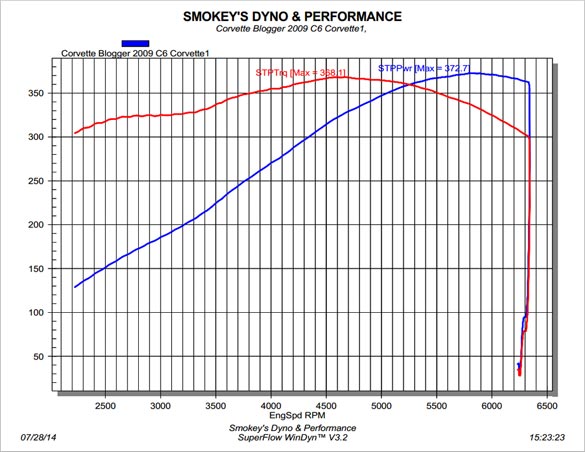 Next, we installed the Carbon Fiber Intake and then headed back to the dyno. After 5 dyno pulls torque was at 367.5, and power was up to 374.5. This is where we learned something about, well, "learning". Turns out your old dog C6 can learn new tricks. Here's what happens: Your car's computer is used to seeing a certain volume of air getting sucked in. When you increase that volume substantially with a high flow intake your car will respond by richening the air/fuel mixture accordingly. In our case we actually lost 10hp on our first run post install due to the ultra-rich mixture. As we performed our 4 additional dyno pulls, the computer's adaptive learning slowly adjusted the air/fuel ratio back down and output gradually increased with each of our 5 total runs. Unfortunately we had to cut our intake-only runs short due excess heat building in our ride. Once modern cars get too hot the computer will begin to take measures to cool things down so as to protect the catalytic converters and other vital components. In many cases they retard the timing which also lowers horsepower. Since that would defeat our purpose here, we elected to move on the exhaust install. Here's a look at our final intake-only dyno run.
After letting the car cool for a bit we moved on to the CORSA Sport exhaust system install. This is where we were expected our biggest gains and the system delivered. Once the numbers were crunched we ended up with 387.1hp and 376.7ft-lbs of torque at the rear wheels. That's an increase of 15hp and 8ft-lbs over stock. As the car continues to learn it's possible those number will go up a slightly. We plan to dyno the car again in a few months to see where we're at once the car has had an extended amount of time to learn. At that time we'll also perform and ECM tune to unlock even more performance from our C6.
Here's our C6 on its final dyno run with the intake and exhaust installed.
Well that wraps up Operation Air Flow. Some things to note here is that all of our data is reported according to Standard Temperature and Pressure (STP). This gives a consistent method of reporting the data as opposed to just reporting raw dyno numbers. We also need to note that (as they say on TV) your results may vary. There are numerous variables that go in to the numbers you see above including vehicle mileage, ambient air temp, relative humidity, the dyno itself, and the adaptive learning we mentioned above. In theory we could run this car on another dyno and get a different set of numbers.
Once again we want to thank the folks at CORSA and Smokey's Dyno and Performance for their help on this project. We had a blast working with them and look forward to bringing you more content from each of them in the future.
You can visit CORSA on the web at www.corsaperformance.com or call them Toll Free at: 800-486-0999. You can also email their sales department with any pre-sale questions at [email protected].
You can also check out Smokey's Dyno and Performance at www.smokeysdyno.com, 330-644-0021 or shoot them an email at [email protected].

Source:
CORSA Performance

Related:
[Operation Air Flow] Episode 2: CORSA Sport Performance Exhaust Install
[Operation Air Flow] Episode 1: CORSA Carbon Fiber Intake Install
CorvetteBlogger Visits Smokey's Dyno and Performance