During the horsepower era of the sixties and early seventies, several dealers and tuners rose to prominence as the place to go if you wanted more performance out of your Chevrolet.
We've recently featured a 1969 Corvette from Nickey Chevrolet in Chicago, which was a great place to have your Corvette souped up if you lived in the midwest. But if you lived over on the east coast, chances are your dealership/tuner of choice would be Joel Rosen and Baldwin Motion on Long Island, NY.
Baldwin Chevrolet and Motion Performance were building and modifying Chevrolets and during that time, Joel Rosen created the Phase III GT. He built 10 Phase III Baldwin Motion Corvettes between 1969 and 1971 but it turns out not all of them went through his shop.
Joe Robinson was the first owner of this 1968 Corvette. A fan of the big block Baldwin/Motion Phase IIIs, he wanted one of his own, but the cost of a turn key car was just too much. So he bought a "regular" Vette with a big block 427 and then saved and worked on paying off the loan for the next few years. His Baldwin/Motion Phase III dream became a reality four years later when he made that final payment on the car. That's when he called up Joe Rosen and then placed an order through Motion's mail order catalog, buying just about everything needed to successfully convert the car to a Baldwin/Motion Phase III Corvette.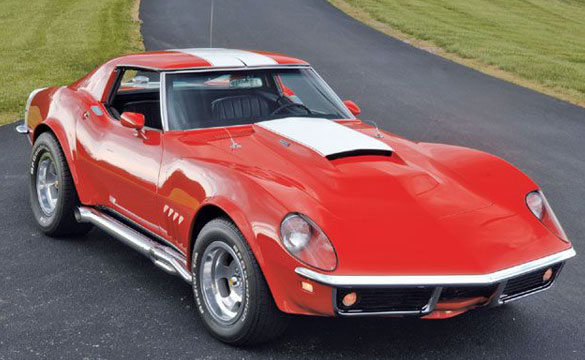 The items he ordered included the front end with the famous tunneled headlamps and shark fender louvers, rear fender flares, scooped hood, and a polished alloy LeMans fuel filler. He then added chrome side mount exhaust, Motion finned valve covers, a big Holley carburetor, a high-rise manifold, and polished Ansen wheels. The famous GT rear window portion of the package was not ordered by the original owner in order to save some money. Once all the go-fast and look good parts arrived, he had a local body shop in Philadelphia perform the transformation which was typically done in-house by the Baldwin/Motion team.
Robinson kept the car for another four years or so and then sold it in 1976 with 32K miles on the odometer. The second owner added 4,000 more miles in two years and then parked the car in his driveway. The engine and transmission had been removed and placed on the driveway next to the car where they sat for 25 years!
Owner number three was Jamie Jarvis who came across the Corvette on eBay one day in 2003. He describes the condition of the Corvette in this Corvette Fever article: "When I got the car it had no paint on it, and the motor and transmission were sitting next to the car. It was in really bad shape and had been banged up in several spots," Jamie recalls. "But it was amazingly complete. It still had all of the Motion pieces with it. It was all in rough shape but they were all there."
After the Corvette was restored in 2003, Jarvis jumped through the hoops and got his Baldwin Motion Phase III certified with a letter from Joel Rosen stating his car was a "Baldwin Motion Conversion". When the Corvette was certified, it picked up its nickname as being the "Mail Order" Baldwin Motion Phase III.
We featured the Mail Order Phase III back in 2011 when it was listed for sale on eBay with a Buy It Now price of $199K. We don't know if the Corvette sold at that time and who the buyer might have been, but now it's listed for sale again on eBay by a consignment company with the undisclosed owner being listed as a car collector in Centerville, VA. The Buy It Now price stands at $127,500 and there are a little over five days left in the auction.
We grabbed some recent photos of the car from the auction page which you can see below.
Like the Nickey Corvette we showed off last week that was selling in the $80,000 range, an even rarer Phase III Baldwin Motion would be one of the highlights of any Corvette or muscle car collection. The eBay auction runs for the next five days and then we'll see what the status is after the bidding closes.

Source:
eBay

Related:
Corvettes on eBay: Mail Order Baldwin/Motion Corvette
Last Baldwin-Motion Phase III GT Corvette Found
eBay Find of the Day: 1972 Baldwin Motion Moray GT Corvette