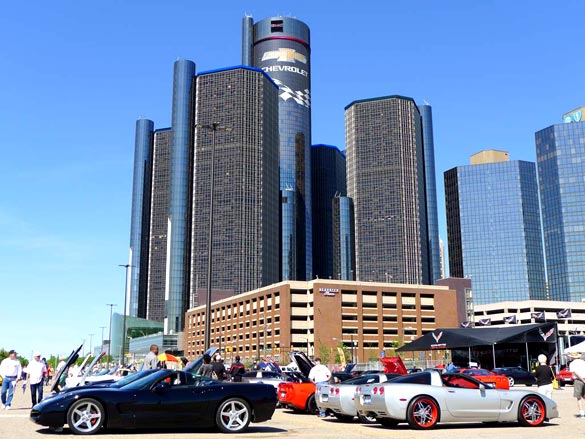 The second annual Corvettes in the D all-Corvette event took place last weekend at the foot of GM's world headquarters in downtown Detroit. Hundreds of Corvette enthusiasts gathered along the banks the of the Detroit river for a day full of good times and Corvette camaraderie.
There was no judging, no awards, and no stress. Just good people with a common interest getting together on a spectacular Saturday in June to celebrate America's sports car. The weather was perfect with nary a cloud in the sky, temperatures in the middle 70's, and a light breeze.
In addition to taking in hundreds of local Corvettes, attendees perused the Corvette Racing Trailer and a C7.R Corvette while the 24 hours of Le Mans played on TV's overhead. In addition the C7 Atlantic and Pacific Design Corvettes were on display to give potential buyers a look at what they can order for the 2015 model year.
The first 300 registrants received an event dash plaque and Corvette Product Manager Harlan Charles was on hand to answer any questions attendees may have. TheCorvetteMechanic.com's Paul Koerner and Brittany George performed their usual non-stop routine of assisting Corvette owners with any issues they have with their rides.
Other displays included Corvette Central, DJ Racing, and Eye Candy windshield wraps while a shuttle service transported folks over the Renaissance Center to wander the halls of GM's world headquarters.
Corvettes in the D was yet another successful event organized by Corvette-a-holic Larry Courtney this time with proceeds going to the National Corvette Museum and the 2014 Michigan/Indiana/Western Kentucky Corvette Caravan.
If you couldn't make it to Corvettes in the D, you can still experience it vicariously through our photo gallery of this great event.
Related:
[CORVETTE SHOW] Corvettes in the D at GM's Renaissance Center on Saturday, June 14th
Chevrolet Displays Corvette Stingray, Camaro and Trax Movie Cars from Transformers: Age of Extinction at NYIAS
[GALLERY] The 2015 Corvette Z06s at the New York Auto Show (50 Corvette photos)