Today at the National Corvette Museum's Bash, Chevrolet introduced two new design packages for the 2015 Corvette. If they look familiar, it's because you first saw them at the SEMA show last fall in Las Vegas. The Atlantic is a luxury-GT styled convertible while the Pacific is a track-focused performance coupe.
In the C6 era, Chevrolet produced many different special editions in the later production years, but these new Design Packages can't really be considered a special edition. Think of them more as a "check-the-box" feature to set up your Corvette Stingray as either a luxury convertible or a race-inspired coupe.
"One of the design goals for the Corvette Stingray was to provide customers with the flexibility to tailor the car to their personality," said Kirk Bennion, Corvette exterior design manager. "The Atlantic and Pacific Design Packages were originally designed to showcase how the Stingray could be configured as a luxury sport GT car or as a high-performance motorsport car."
While these cars were originally shown at SEMA last year, they've evolved somewhat over the last six months. For example, the rockers and splitter on the Pacific Coupe are now styled after those that will be on the 2015 Z06 and the Atlantic will also get the Z06-styled spiltter.
The Atlantic Convertible is a GT luxury open-top cruiser reminiscent of a private jet. Its available only in the Z51 configuration and can be ordered in all colors with a 2LT or 3LT interior. The splitter is again styled after the Z06 splitter with the larger winglets on the corners. Elements also include:
Shark Gray exterior vents, hood "stinger" graphic and tonneau inserts
Chrome Torque wheels with Stingray center caps
Stingray underhood liner and floor mats
Custom splash guards, rear license plate frame and logo valve stem caps
Custom luggage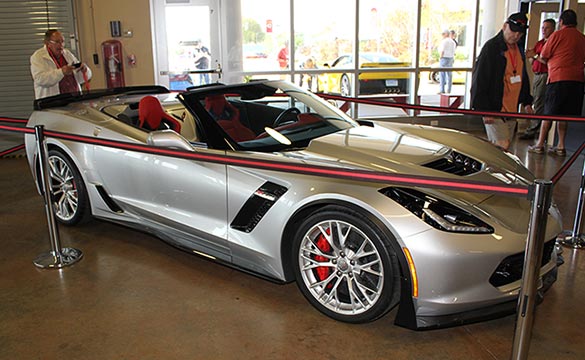 The Pacific concept was inspired by the West Coast racing culture and would be the perfect Stingray for those who attend weekend driving events including HPDEs and auto crosses. It will be offered in the Z51 configuration only and is available in four colors: Torch Red, Arctic White, Blade Silver and Shark Gray. Other elements include:
Satin black full-length racing stripes
Satin black Z51 wheels with red stripe and Stingray center caps
"CFZ" carbon fiber ground effects package and visible carbon fiber roof panel
Carbon Flash rear spoiler, outside mirrors and exterior badges
Red brake calipers
Competition Sport Seats in red or black
Carbon fiber interior trim, Stingray sill plates and Stingray floor mats
Custom splash guards and rear license plate frame
Indoor car cover (gray)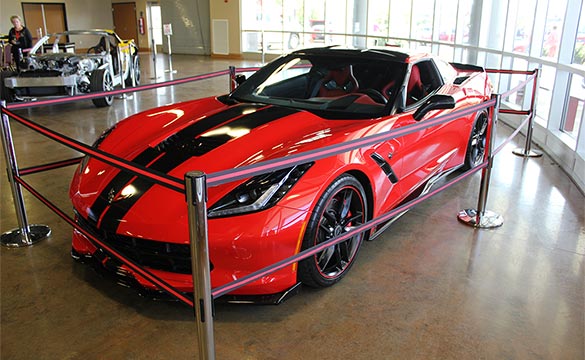 These two Design Packages are the latest Chevrolet concept cars from SEMA that have made the jump to reality. They will join the Camaro Hot Wheels edition and the Sonic Dusk as regular production vehicles.
"We plan to make news with the Corvette Stingray every year, in part by offering special-edition models that offer a unique, personal ownership experience," said Todd Christensen, Corvette marketing manager. "Our customers have told us they appreciate these limited-edition models, which have become an important part of the Corvette's legacy."

Source:
Chevrolet

Related:
[VIDEO] SEMA 2013: The Corvette Stingray Pacific Concept
[VIDEO] SEMA 2013: The Corvette Stingray Convertible Atlantic Concept
[VIDEO] SEMA 2013: The Corvette Stingray Gran Turismo Concept