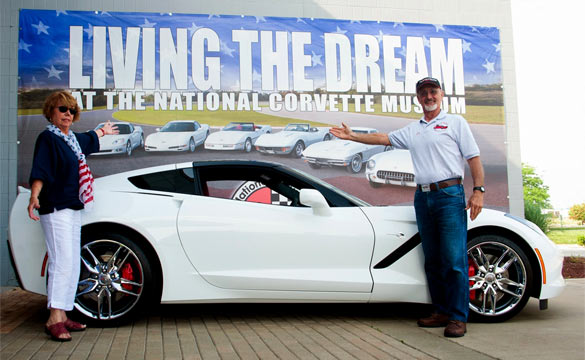 Photo courtesy of the National Corvette Museum
When it comes to Corvette enthusiasts, they don't come much more enthusiastic than Jack and Dor DeLong.
They've always made it clear that owning a Corvette is all about the memories they can make and share with others, so naturally they've been a major supporter of the National Corvette Museum. As Lifetime Members, they've donated money, bought bricks, and even "purchased" three acres at the soon-to-open NCM Motorsports Park.
Recently, they took their enthusiastic support a step further with the donation of their 1992 Corvette to the museum (having already donated a 1988 'Vette a few years ago).
Don't fret, though. The DeLongs aren't giving up on the Corvette lifestyle. Far from it, as they took delivery of a beautiful new C7 at the museum while donating the 1992 at the same time.
"This car is a special car to Dor and I," Jack said of the '92. "It was a gift that we gave to ourselves when we reached a point in life where we could really enjoy it. It was the first car we ever took to the Museum, and the first car that we took back to its birthplace at the Assembly Plant. We put many thousands of miles on this car going to countless NASCAR races, club events, and road tours, making memories every mile along the way."
Friends and family members around the country were able to watch the momentous delivery/donation on May 27 through the webcams set up at the museum.
Said the museum on its blog: "Thank you Jack and Dor for donating another Corvette to the Museum and for taking delivery of your new one with us. We are so glad that you are a part of our family."
For information on how you can donate your car to the National Corvette Museum, go to: www.corvettemuseum.org/donations/autos.shtml or send an email to the NCM to learn more about including the Corvette Museum in your estate planning. E-mail us at: [email protected].

Source:
National Corvette Museum

Related:
NCM Motorsports Park Planning Inaugural High Performance Driving Event (HPDE)
Corvette Museum Receives Donation of a 1993 40th Anniversary Corvette
[VIDEO] Behind the Scenes of the Corvette Recovery Operation at the National Corvette Museum