It's springtime which means that Corvette owners in the cold zones are beginning to extricate their cars from winter hibernation. That's usually followed by a serious spring cleaning in preparation for the upcoming summer cruising season. But which product should one use on their ride? We recently tried out Adam's Total Interior Detailer and the results of our toils await you after the break.
Our good friends over at Adam's Polishes were gracious enough to hook us up with a bottle of their Total Interior Detailer. We're already big fans and users of their Detail Spray and other items so with towel and detail brush in hand we headed off to the CorvetteBlogger R&D Center to see how well one of Adam's newest offerings performed on a C6 long overdue for some TLC. Our patient was a 2009 C6 coupe. The owner, through a series of life events, hadn't detailed the car in nearly 2 years (we've since admonished him accordingly). Like most sixth generation
Corvettes, this one had developed that heavy "chalking" across the dash and door panels since its last bath.
Here are a few before photos:
The instructions are pretty simple. First, spray an even coat over the area which you want to clean then wipe with a cloth until the Interior Detailer is level and even in appearance. Finally remove any excess with a separate dry towel. Optionally, they recommend spraying the product directly onto a towel for those hard to reach areas of your car.
Using Adam's Total Interior Detailer really is as simple as stated above. Overall we thought it performed very well on our gross C6. Getting the product "level and even" as they call it can be a little tricky, but just work in a small area at first and you'll get the hand of it in no time at all. We should note, though, that it was about 55-60 degrees in the R&D center when we were working so that likely made things a little tricky for us. Warmer ambient air temp likely would have made it easier to use. We found using the dry towel to be the best way to get optimal results.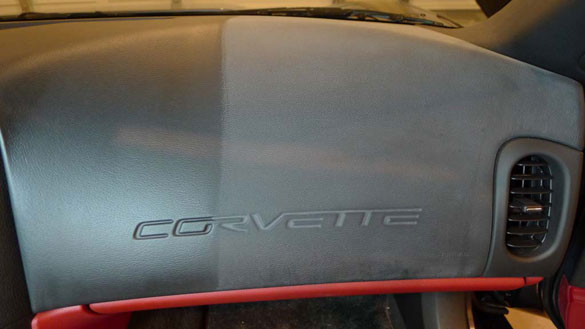 We recommend using a good soft bristle detail brush as well to help get into the nooks and crannies. For more stubborn dirt or scuffs use a toothbrush or something similar.
As you can see from the photos, the finished product is a car that once again looks essentially brand new.
We definitely recommend picking yourself up a bottle of Adam's Total Interior Detailer for yourself. It's good stuff. It's easy to use and does exactly what you want it to do.
You can pick some up at pretty much any of the big shows which Adam's attends or simply swing by their website to grab some right now. Also, be sure to like them on Facebook as they often give away various products there.

Source:
Adam's Polishes

Related:
[POLL] How Do You Wash Your Corvette?
[PICS] Adam's Polishes Detailing Seminar at the Lingenfelter Collection
[PICS] Adam's Premium Polishes Used on the 2014 Corvette Stingray at Barrett-Jackson