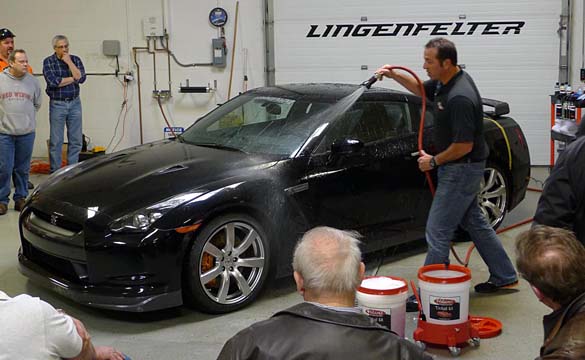 Last year Adam's Polishes was named the officially licensed car care products for the Corvette and Camaro. When we heard that founder and CEO Adam Pitale would be giving a free detailing seminar on site at the Lingenfelter Collection outside Detroit, we had to add the event to our weekend agenda.
The collection opened its doors at 9:30am last Saturday and the detailing seminar was slated to begin at 10:30am, but when we arrived just before 10am, Adam was already off and running on the day's activity. If you've ever been to one of the major car shows like Bloomington Gold or Corvettes at Carlisle, you've probably seen Adam and his team shining up owners' cars all day long. They're easily some of the hardest working people you'll see in any vendors' booth. Last weekend's detailing clinic was no different, Adam was a perpetual motion machine all day long answering questions, demonstrating techniques, showing off his products, and even allowing attendees to use some of his products and equipment on Ken Lingenfelter's black Nissan GTR. All day long a throng of people, often 3-4 deep, surrounded Adam while he worked. And, of course, a full slate of Adam's products was available for purchase as well. Topics covered everything required to pimp your ride top to bottom including using a clay bar, cleaning exhaust tips and wheels, and how to use different polishing equipment.
The Lingenfelter Collection is housed in a rather nondescript 40,000 square foot warehouse northwest of Detroit and was a perfect backdrop for the Adam's detailing seminar. It's pretty much automotive heaven. Over 150 cars fill the building's 3 main sections. One section is for the exotics including a Bugatti Veyron, several Ferrari's including an Enzo, F40, a 288 GTO, and a FF, a Lambo Reventon, and a Porsche Carrera GT among several others. The muscle car room holds old Firebirds, Camaros, a Hemi Challenger, AAR Cuda, Novas, Mustangs, and pretty much 1 of every muscle car you can think of. There's even a NHRA Funny Car in there.
In the Corvette section there's a 1953 Supercharged Corvette, 1954 Silver styling Corvette, 1954 Duntov Mule, 2 Guldstrand GS90's and about 10 Callaways in addition to about 30 other examples.
After you've checked out our photo gallery from the event below, be sure to swing by the Adam's Polishes website and order yourself some products for detailing your ride.

Related:
GM Gives Official Nod to Adam's Premium Car Care Products for Corvette and Camaro
Remarkable 1954 Silver Style Corvette Reborn
CorvetteBlogger.com Visits the Lingenfelter Collection
Legendary EX87 Corvette Test Mule Offered at Mecum's Spring Classic