One of the most successful Corvette race car drivers from the 1950s passed away on March 6, 2014.
Jim Jeffords started his career as a Chevy racer after impressing Ed Cole with his driving behind the wheel of a Jaguar 140 on Memorial Day weekend 1956. That performance led to Jeffords being asked to race John Fitch's modified Corvette in the feature the next day.
Thus began a very successful, though short-lived career for Jeffords, who became well-known for his strong performances behind the wheel of the "Purple People Eater" Corvette in the late 1950s. With the backing of Nickey Chevrolet in Chicago, Jeffords entered 21 race weekends (42 races) with the 1958 and 1959 Purple People Eater Corvettes, winning an astounding 29 of them. He wound up winning the SCCA National B/P Championship both of those years.
Jeffords also purchased the legendary SR-2 Harley Early B/MP car and raced it, too.
Photo Credit:
Vette Magazine
Jeffords' outstanding performances in 1958 included lapping the field in a 20-lap race at Wilmot, setting the course record by 3 mph at Watkins Glen as well as a new track record at Vaca Valley, Calif., and becoming the first American driver to win Nassau Speed Week.
Purple People Eater III made a surprise appearance on the West Coast at Riverside in 1959 as Jeffords wound up losing by just 40 feet to Bob Bondurant. Jeffords later won an appeal to SCCA Chief John Bishop, who named him the winner.
His string of successes came to an end in 1961 when he began suffering from a mysterious allergy that left him in intensive care for nine months and almost killed him, forcing his retirement from racing.
Ironically, Jeffords' death came just a day before the Purple People Eater, which had been restored by the late Chip Miller, was displayed by Chip's son Lance at the annual Amelia Island Concours d'Elegance March 7-9 in Amelia Island, Fla.
Jeffords was inducted into the Corvette Hall of Fame in 2002.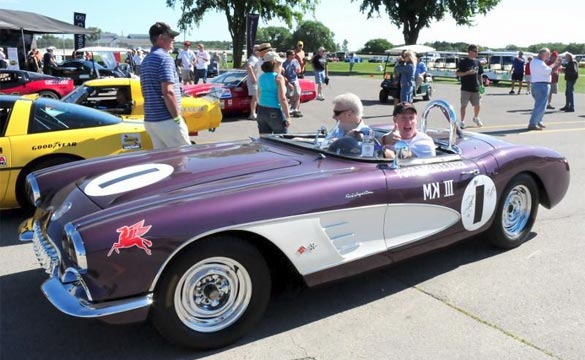 Jim Jeffords, Lance Miller and the Purple People Eater at the Corvette World Tribute, Road America, Aug 2011.

Source:
Lance Miller on Facebook

Related:
Vintage Purple People Eater Corvette Racer to be Displayed at the Amelia Island Concours d'Elegance
Racing Great John Fitch Laid to Rest
Corvette Hall of Famer Betty Skelton Passes at Age 85