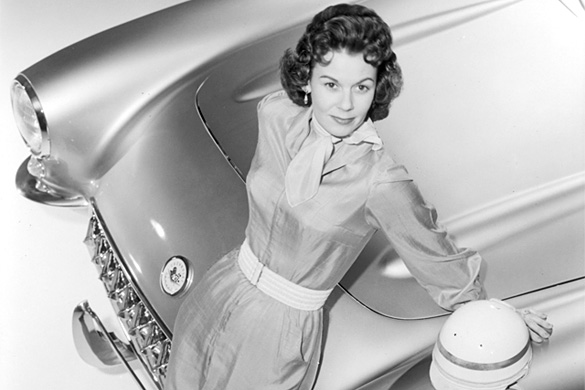 Betty Skelton, the former acrobatic pilot and Corvette test driver who was known as the "fastest woman on Earth" died Wednesday August 31 at the age of 85. For her contributions to Corvette which included roles as a test driver, car show technical narrator and one of the founders of Corvette News (which later became Corvette Quarterly), Betty was inducted into the Corvette Hall of Fame in 2001.
Betty was born in Pensacola, Florida and made her first solo flight at the age of 12. By 18, she held a commercial pilots license and was a certified flight instructor. Her father organized an amateur air show in 1945 and Betty was asked to do some basic stunts. Having mastered some aerobatic maneuvers, Betty became a professional aerobatic pilot and performed at air shows across the country.
Betty's most impressive stunt during this time was cutting a ribbon strung between two poles with her propeller while flying upside down 10 feet off the ground.
Skelton held the title for the US Female Aerobatics Championship from 1948-1950. In 1949 she set the world light-plane altitude record of 25,763 in a Piper Cub and two years later broke her own record with a flight of 29,050 feet.
In 1953 after retiring from aerobatic flying, Betty was piloting charter flights when she met NASCAR's Bill France Sr. Bill invited Betty to Daytona Beach in 1954 where she drove the Pace Car. She then took a Dodge sedan to 105.88 mph on the beach, setting a stock car speed record for women.
It was in 1956 that she joined Campbell-Ewald, the advertising partner of General motors. She became the first woman technical narrator at the major auto shows where she would talk about the cars and demonstrate their features. Zora Arkus-Duntov put her to work as a test driver where she set numerous speed records with Corvettes. In 1957, Harley Earl and Bill Mitchell designed a special translucent gold Corvette which Betty drove to Daytona in 1957 to serve as the NASCAR pace car. It was also during this time that Betty Skelton became the official spokeswoman for Chevrolet.
Her career in advertising was moving just a quickly. While at Campbell-Ewald, Skelton helped launch the internal magazine called Corvette News which later became known as Corvette Quarterly. She became VP of Campbell-Ewald's Women's Market and Advertising departing in 1969 and retired in 1976 after 20 years in advertising.
Skelton was the first woman to drive an Indy car and she repeatedly set records for speed and acceleration at Daytona Beach and on the Bonneville Salt Flats of Utah. In 1956, she broke a transcontinental speed record, driving from New York to Los Angeles, covering 2,913 miles in 56 hours, 58 minutes.
In 2001, Betty Skelton was inducted in the National Corvette Museum's Corvette Hall of Fame for all her contributions to Corvette. She is also a member of the National Aviation Hall of Fame as well as the Motorsports Hall of Fame.
Betty remained loyal to Corvettes and most recently owned a red C5 Corvette convertible that matched her hair. "I just like to go fast" she said in 2008. "I enjoy it, I really do."

Source:
Wikipedia

Related:
Legendary EX87 Corvette Test Mule Offered at Mecum's Spring Classic
Thoughts Pertaining to Youth, Hot Rodders, and Chevrolet
Celebrating Zora's 100th Birthday