The workers at the National Corvette Museum have had a very busy Monday. This morning they were able to successfully extricate the 2009 Corvette ZR1 Blue Devil from the sinkhole inside the Sky Dome and this afternoon they went after car number two which was the 1993 40th Anniversary Corvette known as "Ruby".
The 1993 Ruby Red 40th Anniversary Coupe is one of two donated Corvettes that fell into sinkhole. The C4 anniversary Corvette was a donation from members Hill and Karen Clark of Bay Village, OH. Karen surprised her husband Hill by giving him the brand new 1993 Corvette on his 50th Birthday.
When "Ruby" fell into the sinkhole, it came to rest at a 3/4 angle on its roof and passenger side with the front facing down. Workers were able to loop the straps from the crane around the driver side wheels and the car picked it up and returned to street level.
When the 1993 Corvette came to rest on all four wheels, the amount of damage was much more extensive than the 2009 Corvette ZR1 Blue Devil which was fortuate to land on its wheels.
Here's the video from the Corvette Museum showing the Ruby Red fished from the sinkhole.
We were told that the 2nd car to come out would be the black 1962 roadster and then the 3rd car would be 1993 40th Anniversary car. Obviously, the construction crew went after the easier of the two first and so know we do expect the next Corvette to arise from the sinkhole to be the 1962 roadster.
Here's some "after" photos of the 1993 Corvette: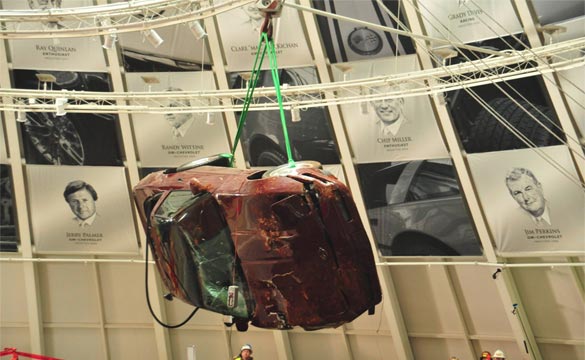 Source:
National Corvette Museum

Related:
[VIDEO] The First of Eight Corvettes is Rescued from the Corvette Museum's Sinkhole [VIDEO] Corvette Museum Shares Week 2 of Sky Dome Work
Corvette Museum to Start Removing Corvettes from Sinkhole Next Week
Donate Now to the National Corvette Museum
A Sinkhole Under the National Corvette Museum Opens and Swallows 8 Corvettes