A sinkhole under the gold rotunda at the National Corvette Museum opened this morning and swallowed at least eight Corvettes according to multiple accounts. The hole is estimated to be around 40 feet wide and 20 feet deep.
The Bowling Green Fire Department was alerted when alarms started going off at 5:38 am this morning.
"It's about 20 feet deep. As best as I can see it is about as big as the pedestal area where we had the cars displayed," said NCM Executive Director Wendall Strode.
According to a press release from the Museum, the eight Corvettes swallowed by the sinkhole include the following collector vehicles:
1993 ZR-1 Spyder on loan from General Motors
2009 ZR1 "Blue Devil" on loan from General Motors
1962 Black Corvette
1984 PPG Pace Car
1992 White 1 Millionth Corvette
1993 Ruby Red 40th Anniversary Corvette
2001 Mallett Hammer Z06 Corvette
2009 White 1.5 Millionth Corvette
Two of the Corvettes were on loan from General Motors, the other six were owned by the Corvette Museum. None of the Corvettes on loan by individuals in the Rotunda were affected.
The 1983 Corvette, which is the only one in the world, was saved from the Rotunda after the fire department allowed staff to move it from the area.
Strode told the Bowling Green Daily News that structural experts are expected to review the situation. "We also have called some karst people from Western Kentucky University to come out and see what is going on," he said.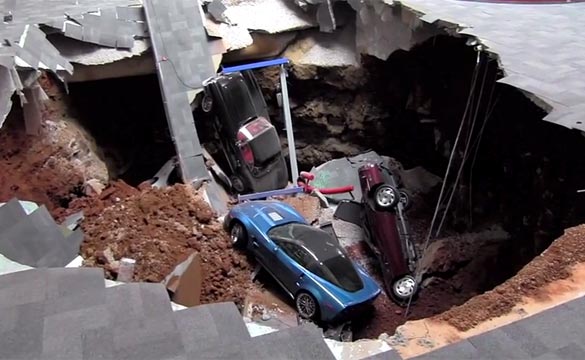 According to Strode, this is the first incidence of a sinkhole on the property. Bowling Green is surrounded by natural caves and one of the largest known cave networks in the country is Mammoth Cave National Park which is just north of Bowling Green in Cave City, KY.
While the Skydome area is closed, the remainder of the Museum is still open to visitors.
UPDATE:
Pictures and video of the actual sinkhole have now been added.
We just got some good news from NCM. They were able to remove all the other Corvettes from the SkyDome:
Video from the NCM shows the sinkhole and the Corvettes inside:
Here is security camera footage showing the moment the floors open up:

Source:
National Corvette Museum and Bowling Green Daily News

Related:
Bloomington Gold Adds the National Corvette Museum to The Great Hall
[PIC] Financial Guru Dave Ramsey Picks Up His C7 Corvette Stingray at the Corvette Museum
Corvette Museum's Motorsports Park Already Planning Track Events for 2014