Our friends and sponsors of CorvetteBlogger.com at Sport Chevrolet in Silver Spring, MD have a new tv commercial out in support of the 2014 Corvette Stingray being named the North American Car of the Year.
Sport Chevrolet has Corvette Stingray Coupes and Convertibles available in their performance car showroom and they are available at MSRP with no additional dealer markups.
If you're interested in ordering a new 2014 Corvette Stingray or perhaps the 2015 Corvette Z06, call Sport Automotive's Corvette Specialist Robert Kramer at 888-880-9972 or visit him on the web at http://www.sportchevrolet.com/Corvette.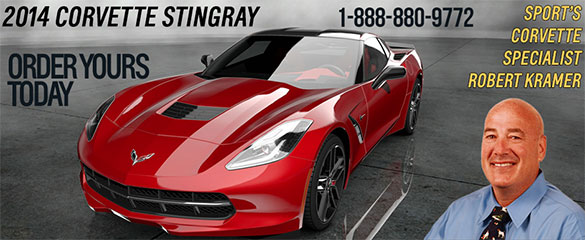 Related:
Strong Demand for the C7 Corvette Stingray Creates Opportunities for Sellers
CorvetteBlogger Welcomes Sport Chevrolet to Our Family of Sponsors
Dealers Face Decision to Sell the 2014 Corvette Stingray at MSRP or More