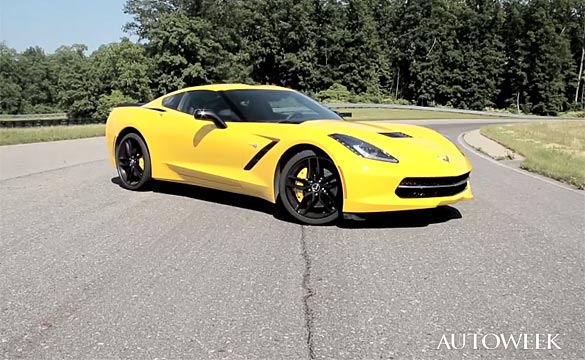 Autoweek was among the group of publications that recently took part in the 2014 Corvette Stingray drive experience held at the Milford Proving Grounds. Their review of the Stingray was published last week and is very favorable to the Stingray. Now we have the video from Autoweek showing many of the on-track exercises they were able to put the Corvette Stingray through.
The video features Corvette Chief Engineer Tadge Juechter who we see standing next to an Arctic White Stingray on the Milford Proving Grounds. Senior Editor Mac Morrison did the driving duties for Autoweek and we get his impressions throughout the video as well. But best of all, you get to ride along as we see a Velocity Yellow and Arctic White Corvette Stingrays doing their thing on the track and through the autocross course.
Here are the Corvette Stingray's performance test statistics from Autoweek:
0-60: 4.1 seconds
Quarter Mile: 12.4 @ 115.3 mph
60-0: 102 feet
For reference, these are the 2014 Corvette Stingray performance estimates released by Chevrolet back in June:
0-60: 3.8 seconds
Quarter Mile: 12.0 @ 117.3 mph
60-0: 107 feet
Skid Pad: 1.03 g
As mentioned, Autoweek's review of the C7 Corvette Stingray is very in-depth and mostly positive. Morrison calls the interior the most of the C7 as the most promising Corvette cockpit yet, but thinks new users might get hung up on the menus and interfaces. You can read the full review at Autoweek.

Source:
Autoweek.com

Related:
[VIDEO] 2014 Chevrolet Corvette Stingray: 48 Hours with the C7 in Detroit
[VIDEO] Motor Trend Tests the 2014 Corvette Stingray Z51
[VIDEO] Edmunds Drives the 2014 Chevrolet Corvette Stingray