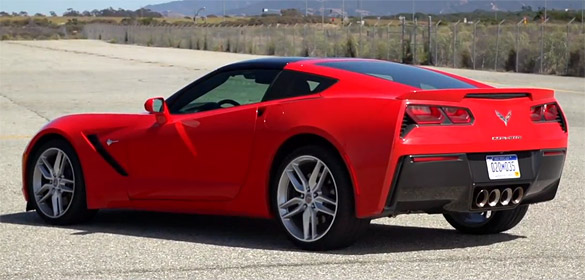 Yesterday we shared the instrumented testing data of the 2014 Corvette Stingray from Edmunds.com and now this morning we can also share Motor Trend's test of the C7.
Motor Trend tested both a Z51 Stingray with a a 7-Speed manual at GM's proving grounds, but they also had the opportunity to test a Z51 Stingray with an automatic transmission on public roads in Central California. So their review contains both performance estimates from their tests as well as the more subjective review from driving the Stingray on public streets.
Motor Trend has put out a 12 minuted video featuring their tests and road drives which we have embedded below. Here is their set-up for the test and then watch the video:
Finally! On this episode of Ignition, Carlos Lago gets behind the wheel of Chevrolet's hotly anticipated 2014 Corvette Stingray 751, the most technologically advanced production Corvette ever made. First, Carlos heads to the test track to put the reborn 460hp V8-powered Stingray through the full barrage of Motor Trend's instrumented tests: 0-60 mph acceleration, quarter mile, 60-0 mph braking, lateral acceleration, and figure-eight. The raw data backs up what Carlos can already feel from the driver's seat – the 2014 Corvette goes fast, stops quick and handles corners with ease. Then, its off to the winding roads of Central California to see how the Vette's continuously variable-locking differential, magnetic damping, rev matching and other high-tech features perform in the real world.
Here are the pertinent performance test statistics from Motor Trend:
0-60: 3.9 seconds
Quarter Mile: 12.2 @ 117.3 mph
60-0: 104 feet
MT Figure 8: 23.9 sec @ 0.82 g (avg)
Skid Pad: 1.11 g (average)
Here are the 2014 Corvette Stingray performance estimates released by Chevrolet back in June:
0-60: 3.8 seconds
Quarter Mile: 12.0 @ 117.3 mph
60-0: 107 feet
Skid Pad: 1.03 g
Motor Trend spends quite a bit of time talking about the new Corvette Stingray's impressive array of technology. Check out this quote towards the end of the review:
Yes, the ability of StabiliTrak to twiddle electronic differential, magnetic damping, and myriad other settings while simultaneously modeling the tire temperatures and more seems almost wizard-like in the way it squeezes the utmost performance and handling out of the C7 Z51's more rigid chassis and stickier Super Sport tires. The magical result is quite simply the easiest Corvette yet to thrash hard. And, yes, it does so without emasculating the car or making it feel anodyne, while preserving its essential Corvetteness. The view out over its impressively low, long hood is similar to that of every Corvette since the last Stingray. The burbling fourth-order engine and exhaust notes are every bit as intoxicating as the first Sting Rays'.
You can read the full review and see the photo galleries at Motor Trend.

Source:
Motor Trend

Related:
[VIDEO] Edmunds Drives the 2014 Chevrolet Corvette Stingray
[VIDEO] Car and Driver Does First Burnout in the 2014 Corvette Stingray
[VIDEO] Listen to the Different Sounds from the 2014 Corvette Stingray's Dual Mode Exhaust