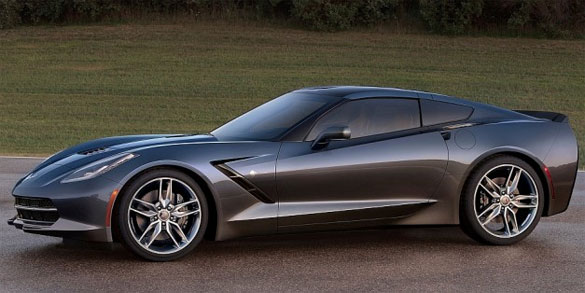 Remember back in the 1990s when Chevrolet had thoughts of coming out with a low-budget stripped-down C5 Corvette?
For whatever reason, Chevy never really followed through on those plans, although it did offer the slightly less expensive hardtop model in 1999 and 2000 before it morphed into the higher performance (and more expensive) Z06.
Now, the C7 hasn't even hit the asphalt (driven by the public, anyway), and the rumor mill is abuzz this week that Chevrolet is working on a low-budget version of its seventh-generation car.
The rumor goes that the budget car would be called the Corvette Coupe and would have a modified version of the 327 CI 5.3-liter V8 that will be in GM's new pickup trucks. Rumor has it that the car would offer less than 400-hp and have a different front fascia, front fender, and rear diffuser than the 450-hp Stingray.
Hmm, that got us thinking about this news item we posted back in November that Indiana-based CSP was awarded a contract from Chevy to produce body panels for the 2015 Corvette. Could these panels be destined for a new low-cost C7 variant?
Everyone's looking for a bargain these days, so not surprisingly sentiment on the Internet has been largely in favor of such a move by Chevy. This writer, who has owned nine Corvettes over the past 30 years, would support anything that would make it easier to afford to put a C7 in my garage. While I like the mental feeling of knowing I've got a 450-hp car in my driveway, I'd probably be perfectly content with a less-powerful but still beautiful version of the C7 that wouldn't bankrupt me.
One problem is the image, though. If you were around in the '70s, you remember that the base Camaro didn't look nearly as appealing as the Z28, did it? With the C7, Chevy would need to differentiate the Coupe from the Stingray enough to make Stingray owners not feel like they were being cheated (the way ZR1 owners did in the 1990s when the base model's rear bumper changed so that it looked just like a ZR1 on a diet). But if they do that, would the budget car then be like the base Camaro in the 1970s and thus it wouldn't be as appealing to Corvette fans like this writer?
That's the challenge for Chevy.
One poster on the Web thinks the less expensive version of the Corvette is "a genius idea." He says: "If a Corvette Stingray is going to cost somewhere around $50,000 like the old C6 Corvette, if they brought in an entry level model I would price it in either the high 30's or low 40's. Take away a lot of the visual cues (air vents, quad exhaust tips, wheels) and some of the interior features (leather, heated seats, power seats) and you are right on the money with that car. I would buy one without a doubt considering what 40K can buy you now. You can have a loaded BMW 328i for around the same money or a loaded Ford Mustang or Camaro for the same. Price it at least 3000 bucks above a Camaro SS and you got a hit seller."
Another poster says: "A lower cost Corvette is a great idea. It puts the car within closer reach for the younger generation which is important because it builds brand loyalty. Go for it GM."
However, there are nay-sayers out there, too.
Writes one: "Chevy should not make a low cost Corvette. This will only take away sales of the Camaro. Corvettes are already affordable, when compared to other sports cars. GM please leave this territory for the Camaro and not the Corvette."
Another negative responder writes: "I think their efforts would be better spent making the Camaro an even more refined sports car to fill in this spot. The Corvette Stingray should remain the brand's halo car until a higher end model shows up. Watering it down even further than it already is makes no sense to me. Really hope they don't follow through on this idea."
Guess we'll find out in a few months what Chevy has up its sleeve.

Source:
MotorTrend and LeftLaneNews.com
Related:
Nashville Ledger: Can This Car Save GM?
SPIED: 2014 Corvette Stingray with Full Body Racing Stripes
Motor Trend: C7 Corvette ZR1 Could Have More than 700 HP