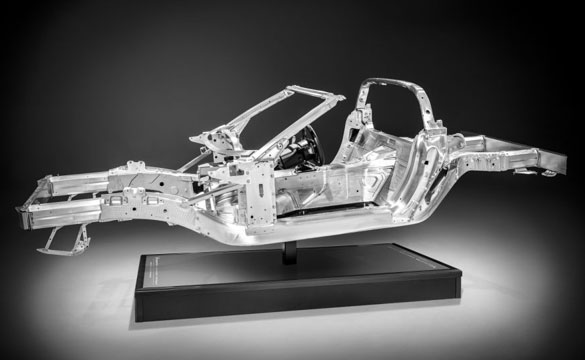 When you think about lightweight materials, you usually don't think about them being stiffer than heavy materials.
But that's the case with the aluminum frame that has been designed by Corvette engineers for the 2014 Stingray and is 99 pounds lighter and 57 percent stiffer than the current Corvette's hydroformed steel rail-based frame.
"For the C7, we decided to go with aluminum rather than steel since aluminum can provide significant weight advantages," said Ed Moss, Engineering Group Manager for Body Structure. "Our job was to choose the right material and part-production process for each function. In this case, we came up with a structure that includes 10 castings, 38 extrusions, 76 stampings, and three hydroformed parts."
The resulting frame not only delivers better performance and fuel efficiency, GM executives say, but the greater torsional rigidity also cuts noise and improves ride and handling.
Thanks to the frame, the new car will have "an optimal 50/50 front/rear weight balance" and a "world-class power-to-weight ratio" that's better than the Porsche 911 Carrera and Audi R8, Chevy claims.
Unlike the C6, which uses hydroformed steel-tube rails with a constant thickness, the C7 chassis calls on rails made of five aluminum segments varying in thickness, each designed with the specifications needed to do the job it is called upon to do.
The new chassis will use several joining methods, including conventional welding, a new patented spot-welding method developed by GM, and screw-bolts reinforced with adhesives.
You can expect to see more lightweight structural materials in cars of the future, says Richard Schultz, Managing Director of the automotive practice at Ducker Worldwide.
He predicts steel use in light vehicles will drop to less than 50 percent of the curb weight over the next decade as automakers aim to meet stricter fuel-economy rules.
And, as usual, the Corvette will be leading the way.

Source:
SAE.org

Related:
[VIDEO] The Retractable Hi-Def Screen Inside the 2014 Corvette Stingray
The Seating Options in the 2014 Corvette Stingray
The Technologically Advanced 2014 Corvette Stingray
[PICS] The 2014 Corvette Stingray Revealed