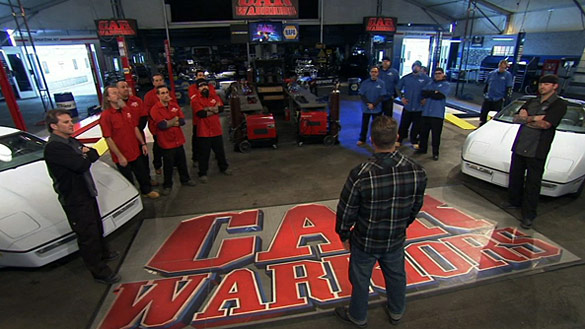 You already know the premise behind SPEED's Car Warriors: Give two teams identical cars and 48 hours to make it their own. At the end of the show, a winner is chosen by So-Cal Speed Shop's Jimmy Shine. The series airs on SPEED Wednesdays at 9pm ET and if don't already have Car Warriors on your DVR's record list, make sure you add it now as this week's featured build car is the 1986 Corvette.
The show has undergone some changes since last year's premiere season. Gone is the All-Star team and now the show features two new build teams during each episode. And with the time of the builds shortened from 72 hours to 48 hours, each team will have their own Car Warriors coach that will help provide guidance, mental support, build assistance and whatever else may be needed to help the team succeed.
The two teams competing in the 86 Corvette build-off are Sledsville Customs and Shinbone Alley.
It's easy to see why the producers chose the 1986 Corvette. With a production total of 35,109 (27,794 coupes and 7,315 convertibles), they are both plentiful and relatively cheap. Yet, the C4 Corvette still packs a punch with the L98 V8 engine that produces 230 horsepower and a top speed of 150 mph. Plus you have the iconic C4 Corvette body style which always looks good on TV! Check out these advance preview shots we got of the Corvettes that will be customized on SPEED's Car Warriors:
Also back for a second season of Car Warriors is Zip Corvette who provided a bevy of parts for last year's C3 Corvette episode. Zip is back as a Corvette parts supplier for this week's build-off so make sure you keep your eyes open for the blue ZIP logo.
Tune in to watch Car Warriors on SPEED this Wednesday at 9PM ET. We'll be joining other Corvette fans on twitter during the show and you can follow that conversation with the #CarWarriors hash tag. And if you want some free swag from SPEED, look for our tweets before and after the show as we are giving away three SPEED Car Warriors prize packs containing a SPEED t-shirt and hat, as well as a signed Jimmy Shine card.
Check out SpeedTV.com for full episodes of Car Warriors, along with biographies, photo galleries, best of and behind the scenes clips.

Source:
SpeedTV.com
Related:
C3 Corvettes to be Featured on SPEED's CAR WARRIORS
[PICS] 1976 Corvettes Customized on SPEED's Car Warriors
[VIDEO] Larry the Cable Guy Visits the Corvette Assembly Plant