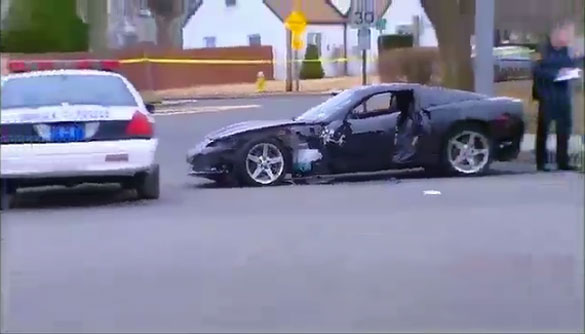 It was a busy Friday morning for 31-year old Joseph Ciambriello according the police in Lindenhurst, New York.
The man was first accused of creeping around an elementary school in the early morning hours. When school officials confronted Ciambriello, he told them he was a member of the CIA and then he fled in his black C6 Corvette. The school got his license plate and called in the security threat to police, who caught up with Ciambriello a short time later.
Police say the 31 year old Ciambriello was high on drugs and didn't go down without a fight. He crashed into five police cars before coming to a stop. Once out of the car, he was tased three times without effect and attempted to run away. It took a total of six officers to tackle him to the ground and make the arrest.
The Corvette sustained a significant amount of body damage, especially on the drivers side where panels are cracked and missing. Six officers were taken to the hospital with minor injuries as well as the accused Corvette owner, whose injury was unspecified.

Source:
WABC
Related:
C5 Corvette Run Over by 18-Wheeler in South Florida Hit-and-Run
Dead Battery Traps Would-Be Thief Inside Corvette
[ACCIDENTS] Corvette Gets Beat Down By Police Responding to Domestic Violence Call