Here is the cover of Car and Driver's April 2012 Corvette where they name the 2014 Chevy Corvette as one of 25 Cars Worth Waiting For. The C7 Corvette illustration shown on the cover looks to be nearly identical to infamous Jalopnik renderings from last November.
Causing the most consternation among Corvette enthusiasts is the rear end rendering which is being described as being way too "Camaro-like". We have to agree that there is a lot going on there, but you won't hear us join in the chorus of those saying it makes the C7 a deal breaker until we see the real thing.
The article goes on to highlight all the body style changes and includes the rumored specs of the C7 as being powered by a 430-hp 5.5 Liter V8 – we believe the Gen-V to be a 6.2 Liter V8 with a base 480-hp and its fuel-saving technologies will include variable valve timing and direct injection.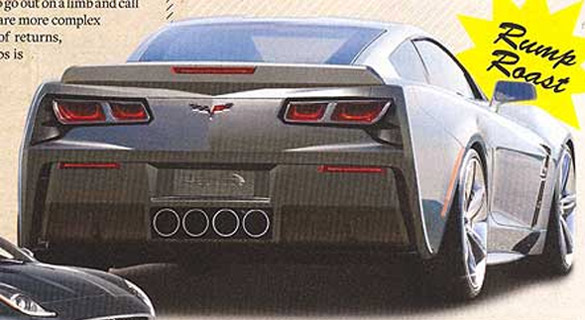 Again, we harkin back to Tadge Juechter's remarks at the 2010 Bash where he said "Don't believe what you read… most of them will be wrong" when talking about the automotive magazines and their C7 articles.
For more on this C7 rendering, jump over to Corvette Report as K. Scott Peters breaks down the Car and Driver design and tells GM "…we're not supposed to 'get used to it,' we're supposed to LUST for it!"
The next generation 2014 C7 Corvette is expected to make its public debut in January at the 2013 Detroit Auto Show and will arrive in dealer showrooms in the later half of 2013. Click here of our 2014 C7 Corvette updates.

Source:
Corvette Forum
Related:
Corvette Museum Lists 2013 NAIAS for C7 Corvette Reveal
[VIDEO] C7 Corvette Captured on Spy Video
Jalopnik to Reveal 'Real' C7 Corvette on Monday at Noon; Updated with Photo of 2014 Corvette ZR1