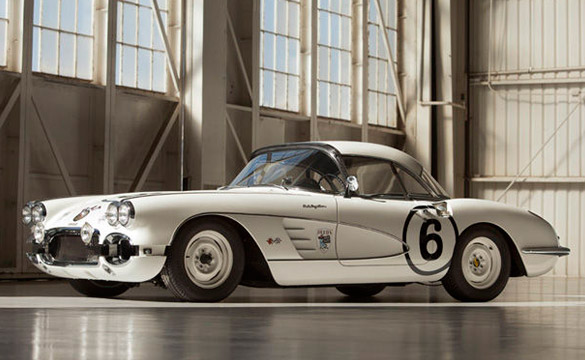 This rare Corvette racer is one of just 10 "big tank" Corvettes assembled in 1960. At the 12 hours of Sebring that year the "Race Rat" won its class, finished 16th overall, and was the only Corvette to finish in the top 25. It'll cross the block on March 9th, 2012 at Gooding and Company's Amelia Island sale.
George Reed was a successful racer in cars other than Corvettes. He owned RRR Motors located in Homewood, Illinois which distributed high-end exotics such as Ferrari and Alfa Romeo in addition to Goodyear racing tires. "RRR" was also the name of a racing club that he founded in the 1950's. The 3 R's stand for "Reed's Race Rats".
Looking to expand his horizons, he ordered a new 1960 Corvette from Nickey Chevrolet in Chicago with the intent to complete in the 12 hours of Sebring. Being an avid racer he specified all the go-fast options including heavy duty suspension and brakes, fuel injected motor, 4 speed transmission and the optional 24 gallon "big tank" gas tank.
Reed took delivery of the car in early March and promptly had the engine race-prepped by Nickey's Ronnie Kaplan. Once the car arrived in Florida, a spectator and engineer named Zora Arkus-Duntov was enlisted to assist with final race prep. Final suspension tweaks were made race morning prior to drivers Chuck Hall and Bill Fritts taking the wheel. At the end of the 12 hour battle, the Race Rat had won its class and was the highest finishing Corvette in the race. Reed finished 5th piloting another of his own (non-Corvette) cars.
The car passed through several owners after its racing career with one gentleman, Randall Krystosek keeping it from 1965 to 2004. During that time it saw everything from basic storage to everyday driving. Curious about the car's history, Krystosek contact noted Corvette guru Noland Adams to inspect the car. It was during Noland's inspection when all of the original race bits were rediscovered. Krystosek kept the car until 2004 when a noted west coast collector took possession. At that time more research was done and the car was restored to its original 1960's racing livery which it still retains today. In 2009 it was awarded the NCRS American Heritage Award and is eligible for FIA historic events.
Gooding and Company estimates that the car is worth $450,000 – $550,000 today. Back in 2009 at Gooding's Pebble Beach sale the Race Rat was bid to $620,000 and did not sell. Based on the current demand for historic racecars and the recent no-sale of the 1961 Gulf Oil Racer at Mecum Kissimmee, we think the pre-auction estimate is just about right.
Gooding and Company's Amelia Island auction takes place Friday, March 9th at Racquet Park, Omni Amelia Island Plantation beginning at 11am. Tickets are $30 each.

Source:
Gooding and Co.
Related:
1961 Corvette Gulf Oil Race Car a No-Sale at Mecum's 2012 Kissimmee Auction 1960 JRG Special Corvette Racer Sells for $88,878 at Bonhams Paris [VIDEO] Gulf One 1963 Corvette Z06 Sells for $1.05 Million