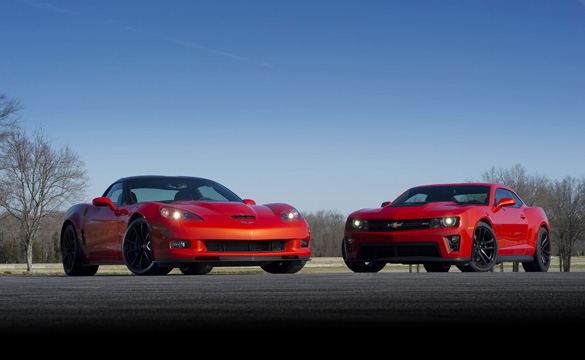 When it comes sports car sales in the USA, Chevrolet is the brand that buyers flocked to in 2011 with Camaro and Corvette accounting for one out of every three sports cars sold last year. To show off their most capable performance cars, Chevy took the Camaro ZL1 and Corvette ZR1 to VIR where the two retail production versions lapped the Grand Course in record times.
But first, here is what you need to know about sales and how the Corvette and Camaro rank in their segments:
Corvette sales in 2011 were more than double that of its nearest competitor, the Porsche 911, which delivered 6,016 cars in 2011 compared with the 13,164 for the Corvette. Corvette's market share of the luxury sports car segment was 28% while Porsche had 13%.
Camaro sales totaled 88,249 and accounts for a 37% share of the sports-car segment. Camaro outsold its nearest competitor the Ford Mustang by 17,811 cars in 2011. Ford's Mustang was #2 and accounts for a 29% share of the market.
"With the addition of the Camaro ZL1, there are only a handful of brands in the world with two cars that can match the performance, technology, and excitement of Corvette and Camaro," said General Motors North America President Mark Reuss. "Unlike many competitors' performance cars, the Corvette ZR1 and Camaro ZL1 are appropriate for both daily drivers and track use from the factory – with standard coolers for brakes and drivetrain."

"And we challenge any company to bring two cars to compete with the Corvette ZR1 and Camaro ZL1, dollar for dollar," Reuss said. "They will discover what enthusiasts already know – that Chevrolet Camaro and Corvette are the world's best performance cars for the money."
Chevrolet recently took both the Corvette ZR1 and the Camaro ZL1 to Virginia International Raceway (VIR), the same track that Car and Driver Magazine uses for its annual Lightning Lap shootout, to demonstrate the capabilities of the two sports cars.
Chevrolet engineer Jim Mero drove a full-production version of the 2012 Corvette ZR1 and lapped the Grand Course at VIR in 2:45.6 – a time that was faster than any published lap time for any production car. Here is the video of that lap:
In a 2012 Camaro ZL1, Camaro engineer Aaron Link lapped the Grand Course in 2:52.4 – more than six seconds faster than the published lap time of a 2011 Ford Shelby GT500 on the same track. Here is the video of that lap:
So the Corvette and Camaro outsold their competition in the showrooms and outdrove them on the track. More proof that sports car buyers get more performance for their money from Chevrolet.

Source:
Chevrolet
Related:
Final 2011 Corvette Production Statistics
[VIDEO] 2012 Camaro ZL1 Runs the Nurburgring in 7:41.27
2012 Corvette ZR1 Runs Fastest Time at Car and Driver's Lightning Lap #6 at VIR