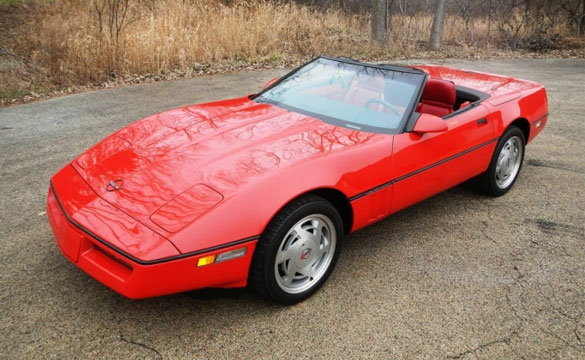 At Saturday's Russo and Steele auction in Scottsdale, a very special 1989 Bright Red Corvette was driven up on the block. With 26,412 Corvettes built during the 1989 model year, what could be so special about this particular Corvette that would give it a coveted Saturday evening auction slot? This '89 Corvette Convertible was owned and driven by the Godfather of Corvette: Zora Arkus-Duntov.
With his name on the title and the gold script "Zora" painted on the doors, there was not doubt that this Red C4 was originally owned by the Corvette's first Chief Engineer. Zora put most of the 35,000 miles on it himself as he was known for attending Corvette-related events across the country.
Bidding on the Corvette was fairly strong considering we are talking about a 1989 Corvette convertible. But Zora's name worked its magic on the crowed and the Corvette was hammered sold for $27,000.
Documentation of the Corvette includes the signed original Owners Manual, correspondence, articles and an information binder. The original title of the Corvette is still in Zora's name. When the Red on Red Corvette entered the Russo and Steele auction, it was announced that the Corvette would be sold on a bill of sale to retain Zora's signature on the title for the future owner.
Here is the video of Zora's 1989 Corvette from Russo and Steele's Saturday night auction:
If you've been to the Corvette Museum in Bowling Green, one of the well-known cars on display is Zora's blue 1974 Corvette. Zora sold his '74 Corvette in 1989 for a reported $100,000 and used part of the proceeds to purchase the Red 1989 Corvette. He drove the C4 Corvette until he passed away in 1996.
After Zora passing, the Corvette joined the collection of Chevy dealer and collector Bob McDorman. McDorman sold the Corvette at a Mecum auction in 2010 for $20,000.

Source:
Russo and Steele
Related:
[VIDEO] 2013 Corvette 427 Convertible Sells for $700,000 at Barrett-Jackson
January Corvette Auction Preview – Russo and Steele
Barrett-Jackson to Auction First 2013 Corvette 427 Convertible