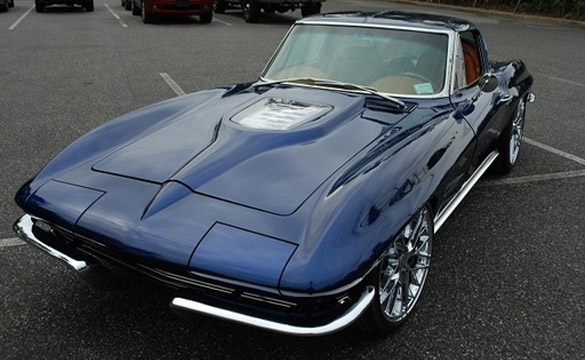 It wasn't easy combining the beauty of a 1963 Split Window with the mechanical prowess of a modern-day ZR1. But builder Anthony Luca managed to pull it off for car owner Joe Bongiorno – after more than 2,000 hours of work and much improvisation and deep thinking.
"Joe told me what he wanted, a ZR1 drivetrain in a '63 split window body," Luca said, "and told me to make it happen however I saw fit."
To make the dream come true, they began with an original 1963 for the body, but Luca decided to call on an SRIII Supertub frame, which uses round-tube space frame design to make it much stronger and rigid than the stock chassis. They couldn't use the modern ZR1 frame because it's too wide for the '63 body.
Of course, after all this work, everyone wants to see that gorgeous LS9 motor shining through the clear window of the hood, and Luca was able to pull that off even though it meant creating from a single piece of aluminum a new, offset engine cover that aligns perfectly with the see-through hood. You see, the original 1963 model's engine sat off-center in the engine bay, so without the extra effort mentioned above, the clear window wouldn't have matched up properly.
The rest of the exterior is pretty much stock, save for the hood and big ZR1 wheels and brakes. The interior, meanwhile, is a simplistic, custom job that features tan ultra-soft bison leather and a unique box that hides the ZR1's complex electronics behind the custom center pod and seats.
The best part about the whole project, however, may be when Bongiorno turns the key and hears his custom '63 ZR1 Split Window roar down the road. It's a feeling not many Corvette owners will ever experience.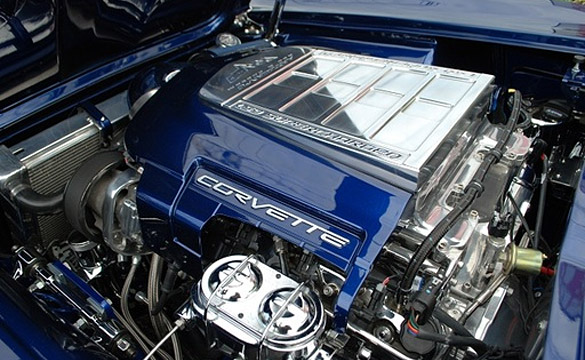 For an in-depth look at Joe Bongiorno's 1963 Corvette ZR1, check out Chris Demorro's article at Corvette Online.

Source:
CorvetteOnline.com

Related:
First Crate Engine Build Experience Customer Assembles His Own 505-hp LS7
SEMA 2011: 1959 Corvette ZR59 Concept
LS9 Gets Dropped into a Warbonnet Yellow 1971 Corvette