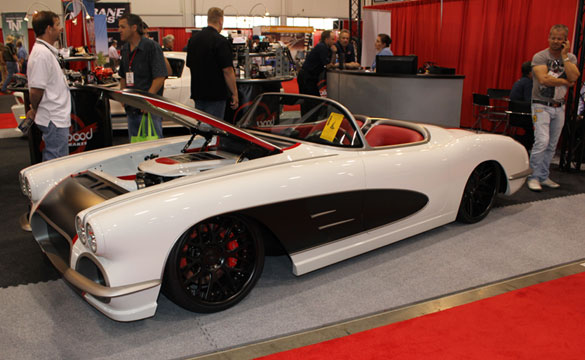 There are some nice custom show cars at the SEMA automotive convention in Las Vegas and then there is the 1959 Corvette ZR59 on display at the Wilwood Disc Brakes booth. Starting as a humble 1959 Corvette, the ZR59 now boasts modern supercar performance without losing the original distinctive look of a C1 roadster.
The Corvette ZR59 is a one-of-a-kind vision that started out as a design on paper. From the choice of the modern LS9 crate engine to hand built bumpers and the custom racing-inspired interior, you can see the highest level of custom workmanship that went into this creation.
The Corvette was built by Palmer's Custom's & Cal West Customs. Riding on an Art Morrison chassis, the Corvette's boasts a C6 front suspension and Air Ride "Shockwaves" with auto leveling technology. The beefed up 750 hp LS9 engine is mated to a TREMEC T-56 6-Speed and the ZR59 rides on Nutek's 3-piece forged aluminum wheels fitted with Hankook 245/35/19s in the front and 305/25/20s in the Rear.
Palmer's Customs handcrafted all the custom body modifications including the bumpers, front end grill and trim, air diffuser, exhaust, tonneau cover, rear wheel tubs, windshield and cockpit trim, dash and gauge clusters, center console and the engine cover.
The 1959 Corvette ZR59:
This is one of the best custom Corvettes we've ever had chance to shoot and the only thing lacking was the inability to actually see and hear it run. We'll be dreaming of this custom roadster for some time to come.

Related:
LS9 Gets Dropped into a Warbonnet Yellow 1971 Corvette
[VIDEO] Unholy Engine Swap: 1954 Corvette Roadster ZR1
[VIDEO] Watch the Morrison 3G 1960 Corvette in Action at Spring Mountain