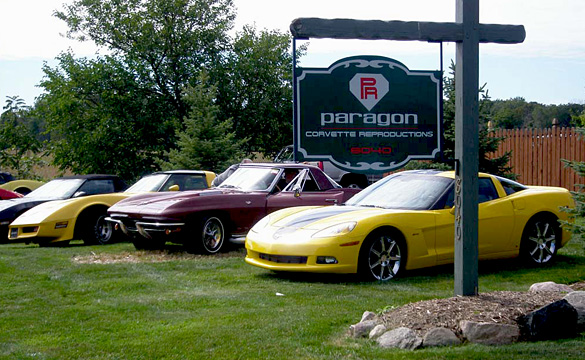 Paragon Reproductions hosted their annual open house a couple of weekends ago at their sprawling facility in Rankin, MI. Attendees were able to wander each of the several buildings on the grounds, buy a host of C1 – C4 Corvette parts, and enjoy a complementary lunch. Of course, one could also check out the 100 or so Corvettes that showed up too. We made a late summer road trip up to Paragon and you see can see some of our photos from the event after the break.
The name Paragon should be familiar to most everyone who owns a Corvette. The longtime parts house sells original and reproduction parts for each of Corvette's first 4 generations. In addition they also perform restorations of small parts all the way up to complete cars.
Our day began with clouds and a cool late summer breeze in the morning. The grayness eventually gave way to bright sunshine and the day morphed into a fantastic Michigan weekend day. We estimate about 100 Corvettes were parked at various locations around the grounds of Paragon's facility. The free event made for a great, carefree day full of relaxing and good times with fellow Corvette owners. If you're able next year, plan on making the trip up to Paragon Reproductions for their 2012 open house.
You can check out some photos from Paragon's open house below:

Related:
CorvetteBlogger.com Visits the Lingenfelter Collection
Corvettes at Carlisle: Downtown Parade
[PICS] The Corvettes of the Woodward Dream Cruise
GM Wind Tunnel: A Closer Look