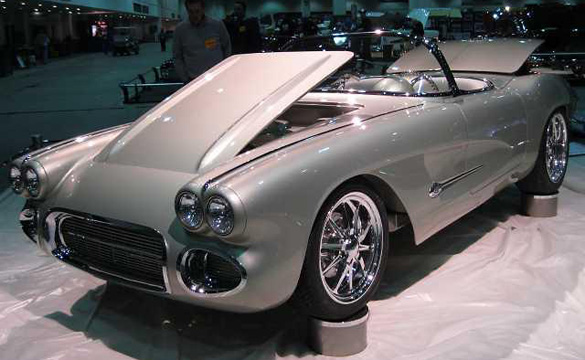 The annual Detroit Autorama is considered the pinnacle of custom rod and car shows. Over the weekend, 100's of cars and trucks converged on Cobo Hall in Detroit. Even as the cars were being rolled into their display areas, the judges were already sorting through the contenders until they come up with the Great 8 – the top eight cars in the show. Those cars are then considered for the prestigious Ridler Award, named after Don Ridler who in the 1960's moved the Detroit Autorama to the forefront of custom car shows in the US. This year a 1962 Corvette was selected as one of the Autorama's Great 8.
The Corvette is owned by Bruce Milyard of Grand Junction, Colorado, who started the project as a 50th birthday present for his wife. Nicknamed "Elegance", the LS7-powered Corvette was built by Johnny Martin of Alamosa, Colorado. Martin estimates the 4 year project took over 10,000 hours to complete.
To be considered for the Ridler award, the car must be operational and able to move under its own power. The Autorama must also be the first public appearance of the car. Even pictures of the completed car will disqualify it from Ridler contention.
Unfortunately, Milyard's '62 Corvette wasn't selected as the best of the best. This year's Ridler award went to a 1959 Ford Sunliner Convertible nicknamed "Suncammer".
This was Johnny Martin's first trip to the Autorama as a car builder. Making to the Great 8 the first time out is no small feat. Now that the wraps are off, hopefully we can learn more from Johnny and Bruce about the details of this very unique Corvette.

Source:
Detroit News
Related:
Barrett-Jackson 2011: Corvette Sales Top $10 Million at Scottsdale Auction
1962 Custom Corvette Named Street Machine of the Year