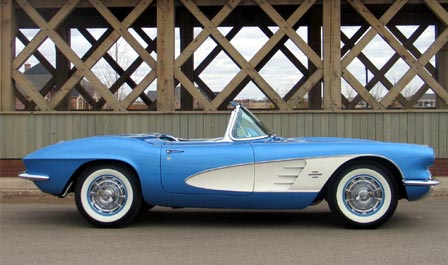 I love 1961 Jewel Blue Corvettes. This shade of blue is a perfect contrast with the white coves and I think its the first year GM got a blue color right. The one year only color option produced just 855 examples. The rarity and beauty of Lot# 678.1 instantly became one of my favorite Corvettes from the Barrett-Jackson Collector Car Auction in Palm Beach last weekend.
This 1961 Corvette is the result of a recently completed frame-off restoration in 2008. Features include a 270 hp dual quad 283 ci V8 coupled to a 4-speed transmission, white wall tires, wonderbar radio and a white soft convertible top.
The Corvette was bidded on for nearly 5 minutes before hammering at $118,000. The full auction video is after the jump.
One of the better parts of the video begins at 3:15 and shows the bidder who at $110,000 is reminded that he purchased the previous lot, a 1965 Nassau Blue Convertible, at $112,000 so why not raise this bid $2,000 so it will be the same price as the previous Corvette. He drops out at $112,000 and then leans over to the guy next to him and mutters $113,000 as a joke and for a moment I thought the ring man was going to call it out as a bid.
Sources:
Barrett-Jackson.com
SpeedTV.com
Related:
Barrett-Jackson Palm Beach 08: Corvette Sales Top $3.8 Million
[VIDEO] Barrett-Jackson Palm Beach 08: All Time High for 1969 L71 427/435 Corvette
[VIDEO] Barrett-Jackson Palm Beach 08: 1970 Corvette ZR-1 Sells for $102,000
[VIDEO] Friday's Featured Corvettes: Barrett-Jackson Palm Beach Edition
Barrett-Jackson Palm Beach 2007: Corvette Sales Top $6.2 Million

Technorati Tags:
Corvette | Vette | Barrett-Jackson | Auction | Results | Palm Beach | 1961