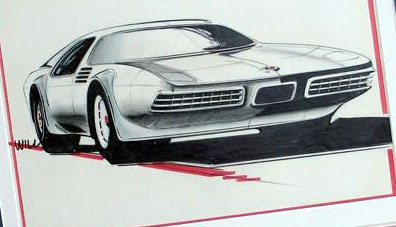 Freelance Journalist Frank Washington was out for a morning walk in his hometown of Detroit when he was viciously attacked. Beaten and stabbed, Frank spent over 11 hours in the operating room as his attackers broke nearly every bone in his face. Frank is well known in the automotive writing circles and news of his attack prompted spy photographer Brenda Priddy and other journalists to set up several benefit auctions on eBay to help Frank financially while he recovers.
One of the items offered is two sketches drawn in the GM Styling Corvette Studio circa 1973 by then GM designer Ron Will. The sketches were part of the advance design program to create a mid-engined Corvette. The program was spearheaded by the head of Chevrolet, John De Lorean and Corvette's Cheif Engineer Zora Arkus-Duntov and resulted in several prototypes including the Chevrolet Aerovette show car. Unfortunately, due to spiraling production costs the project for the on-again off-again mid-engined Corvette was eventually killed in favor of continuing the front engine layout.
The framed sketches measure 22×24 inches and are signed by designer Ron Will.
The auction runs until April 5th at 18:33 PDT and the current bid as of Wednesday is $455. Check out this auction and the other eBay auctions that Brenda and her colleagues have pulled together to benefit Frank Washington.
Thanks for the tip PC!

Source:
eBay.com
Related:
Corvette Museum Auctions Parts on eBay
Technorati Tags:
Corvette | Vette | art | sketch | design | auction | benefit | ebay