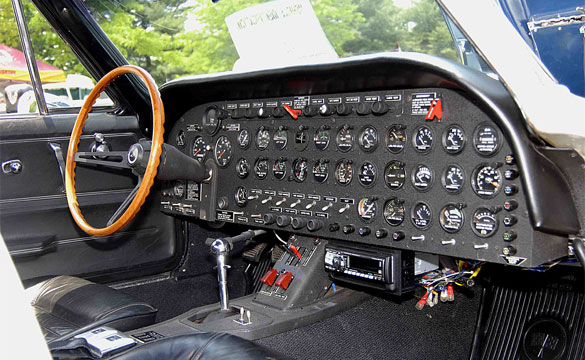 Either this image has been photoshopped or the owner suffers from a major case of gauge-envy. Either way, someone went through a lot of work to make the this midyear Corvette's cockpit look like something that's ready for the runway instead of the driveway.
Click here for a larger image.
The photo was posted in the C1-C2 section of the Corvette Forum. I dug a little further and found that this dash is in deed real and was found in a 1966 Corvette that was on display at a car show in Elderburg, Maryland in May, 2007. The picture was taken by by flickr user tperry111.
This '66 Vette is not the first with flight-related gauges. When the factory built the custom 1963 Corvette convertible for Harley Earl's retirement, engineers removed the glovebox and installed custom gauges, one of which was an altimeter.
Comments about this dash on the forum are plenty and range from pilots talking shop to the fact that the usually chrome spinner on the Corvette's tilt/tele steering column was painted flat black. Blasphemy!

Source:
flickr via Corvette Forum
Related:
Motor Trend Video: Corvette Blue Devil vs Blue Angel
[VIDEO] Harley Earl's 1963 Corvette Sells for $925,000