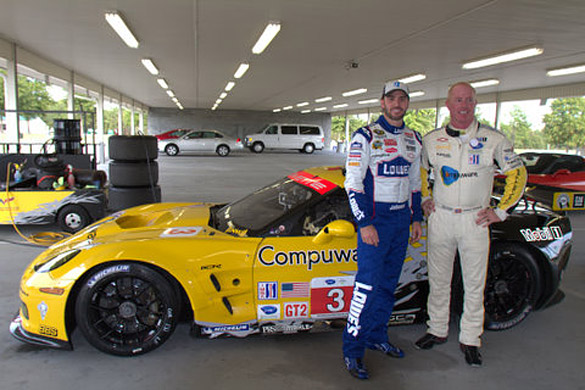 NASCAR's Jimmie Johnson, NFL star running back DeAngelo Williams and Corvette Racing's Johnny O'Connell will get behind the wheel of various Corvette models for the premiere of SPEED's original series Test Drive. Hosted by Tommy Kendall, the Corvette test drives will take place on the streets surrounding Bank of America Stadium in Charlotte, N.C and Carolina Motorsports Park (CMP) in Kershaw S.C. The show airs next Wednesday, December 8th at 10:30 pm EST so get those DVR's set. For a bit of a preview, check out the advance photos we got from SPEED.
Kendall and DeAngelo Williams are featured in the Carolina Panther's Bank of America stadium segment which features Williams driving a convertible Corvette Grand Sport for the first time while Kendall gives his first impressions of the new Corvette Z06.
Then its on to CMP's road course where Kendall, Johnson and O'Connell mix it up with a ZR1 and two Corvette Z06s.
"I've never really been out in a car against Tommy, or really Johnny, for that matter," Johnson noted. "They are two guys I have looked up to throughout the years. I have a ton of respect for them and had a great time."

"It's really cool," O'Connell noted. "Tommy and I actually go all the way back to 1995. We've both followed each other's career, and kept up with each other. What's really cool about this is that it's really an evolution of the show we did with Jeff Gordon. This is an intervening show and since then, Chevrolet has come out with the ZR1. Now, having the opportunity to do the show with Jimmie (Johnson) is a pretty cool deal."
This is not Corvette's first stint on Test Drive. Kendall and NASCAR's Jeff Gordon were in a Test Drive episode in 2005 which featured the then brand new 2006 Corvette Z06. Johnny O'Connell also appeared in that episode which was shot at Road Atlanta.
Jimmie Johnson is no stranger to Corvettes as he owns both a Corvette Z06 and a ZR1 that was given to him (as well as the other Hendrick Motorsports drivers) when the supercharged Corvette first became available in 2009.
"I've had both (ZR1 & Z06), and I've always just been impressed with them, (especially) when you really get into the car and put it through its paces; how much grip it has, how well it stops and how much power it has," Johnson said. "When I got my ZR1, it was my car (Z06) on steroids. It's a blast. I just think it's a perfect car. It has an affordable price, and when you really think about what you get for your money, its one hell of a car."
As a fan of Corvette Racing, I think the real treat will come when NASCAR's five-time Sprint Cup Champion gets behind the wheel of Corvette Racing's GT C6.R and puts the American Le Mans sports car racer through its paces.
"Obviously, the Cup car has more power and you're really trying to concentrate on putting the power onto the ground," Johnson said. "With this car, power down wasn't as big of an issue, but I was really trying to understand the brakes. The brakes are so far superior to what we have on the Cup car, that I was way short on the braking. I spun out that one time, and didn't want to do anything stupid after that. As I was getting more fluid with the car, it's amazing to me with this being such a narrow track, how much corner speed you can carry. You didn't need to get onto the curves. Usually in the Cup car, you need to use every inch of the road. Here, you point the car where you want, and go."
Thanks to SPEED, we are able to share these photos taken during the various shoots for Test Drive: Corvette
Test Drive: Corvette
will premiere on Wednesday, December 8 at 10:30 PM EST on SPEED. Episodes of Test Drive are also available on Hulu.com and iTunes.

Source:
SPEED
Related:
Jeff Gordon's Z06 TestDrive
NASCAR's Hendricks Team Perk: Corvette ZR1s for Everyone!
Video: Jimmie Johnson and a Z06 Take Manhattan