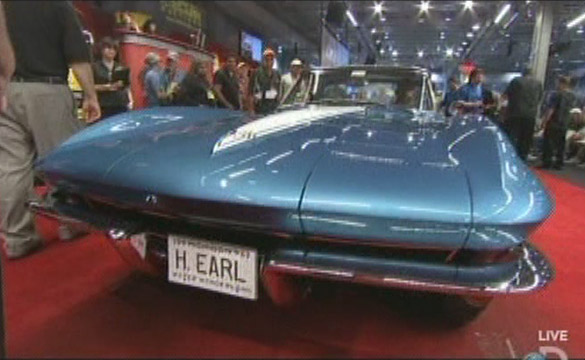 At Mecum's Spring Classic in Indianapolis, a capacity crowd witnessed Harley Earl's 1963 Corvette convertible sell for $925,000. Bidding was strong throughout the auction but slowed at $900,000. In the end it was Terry Michaelis of Proteam Corvette who registered the final bid to win the unique Corvette that was given to Earl following his retirement from General Motors. Video of the sale is after the jump.
Having watched a lot of auctions and seeing Terry in action, this is the first we've seen him on the phone during a sale so we believe that he was acting as a proxy for the buyer. Regardless, the Harley Earl Corvette will be the centerpiece of any Corvette collection.
Interestingly, the Corvette was offered for sale last year at Bloomington Gold's 2009 auction where the Corvette registered a high bid of $985,000.

Related:
Mecum to Offer Harley Earl's 1963 Custom Corvette at Indy's Spring Classic
Bloomington 2009: Harley Earl's 1963 Corvette a No Sale at $985,000