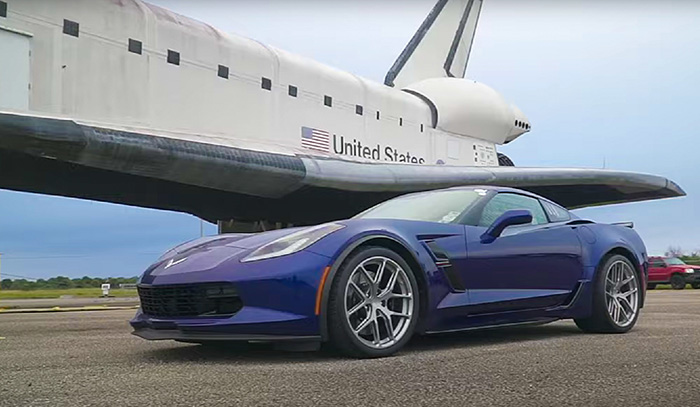 Now that NASA's Space Shuttle program is grounded, the old runway where the spacecraft used to land in Florida has been converted for a new purpose.
The 3.33-mile long, 100-yard wide concrete runway located on Merritt Island in Florida is now the home of Johnny Bohmer Proving Grounds, where top-speed testing of earthbound vehicles can be safely conducted, at least as safe as possible with the high speeds reached.
If you're like me, you've probably never actually had the courage – or the proper road conditions safe enough – to see how fast your Corvette will actually go – relying instead on the word of Chevy for that bragging rights information.
Recently, however, JBPG posted a video to YouTube showing their test run of an Admiral Blue 2017 Corvette Grand Sport coupe, which has a seven-speed manual transmission and still houses its stock 6.2-liter V8 LT1 engine capable of pumping out 460 horsepower.
Chevy claims a top speed of 179 miles per hour for the 2017 Grand Sport, a couple of miles per hour slower than the base Stingray because of aerodynamic differences, according to Chief Engineer Tadge Juechter.
Two test runs of 2.7 miles each were run in the morning and afternoon on the JBPG runway, both going north to south but with the wind blowing in different directions each time. Alas, JBPG's test was able to hit "just" 172.89 mph after a 68-second run, along the way reaching the 100 mph mark in 11 seconds and 150 mph in 29 seconds.

Source:
Johnny Bohmer Proving Grounds

Related:
Blind Corvette Racer Set to Challenge World Speed Record in a C6 Corvette
Reeves Callaway Says Top Speed Records are "Largely a Waste of Time"
[VIDEO] 900-HP C5 Corvette Z06 Runs the Standing Mile on the Space Shuttle's Runway