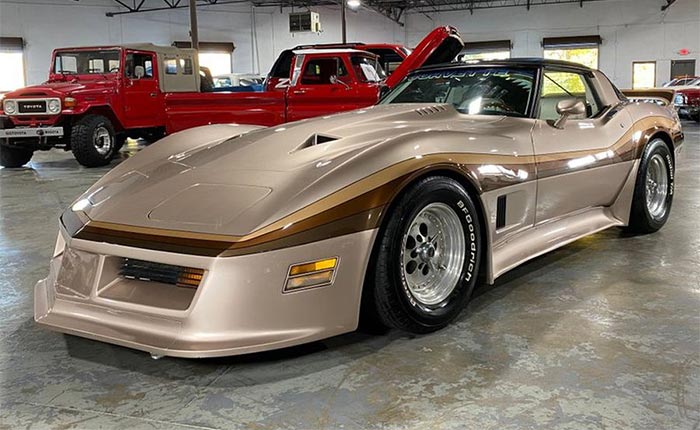 One of the ironies of the Corvette world is that the 1979 model holds the title as the most popular ever, at least based on sales figures.
A record 53,807 coupes left the St. Louis factory that year, but nowadays '79s are the Rodney Dangerfield of the Corvette world.

Personally, we've always liked the look of the '79s with their bolt-on front and rear spoilers (though not as much as the '80-'82s). But the cars don't seem to get respect these days because of their anemic 195 horsepower 350 engine that sits under the hood and just doesn't provide the power levels available from even the most economical cars of today.
One '79 did earn respect from its owner, however.

The '60s and '70s were known for their psychedelic designs back in the day, and now a Marietta, Georgia dealership is offering this highly customized '79 Corvette with wild Daytona-inspired ground effects and a "super-cool paint scheme," to quote the listing of Collectible Motor Car of Atlanta.
The car is coated in Corvette Light Beige with "awesome" multi-colored brown/gold stripes "sure to bring waves of '70s nostalgia to many," to continue quoting.

While it wouldn't be our first choice, we actually like the overall look, especially the black rear-window louvers that remind this writer of our own similarly equipped 1980 Datsun 280ZX (during a momentary lapse from Corvettes – sorry, Zora!). We're not sure about the Centerline wheels, though the period-appropriate BFGoodrich Radial TA tires are nice. Likewise, the coordinating light beige leather/velour interior, complemented with woodgrain, is a welcome touch, and we're sure the new owner will enjoy listening to the appropriate songs coming out of the big bass speakers installed at the rear of the storage compartment.

Unfortunately, the showcar details don't extend into the engine compartment, which is not terrible but still looks like a letdown in the photos, especially after we've been teased with the extravagant exterior and interior. We would have hoped for a lot more bling under the hood and more importantly some increased power, but it's just not there. At the asking price of $33,900, there's not room in the budget for such an engine project, either.
Still, we are glad to see someone took the time and cash to save this vintage Corvette, for though '79s may be underpowered, their super sexy body still makes them a welcome sight for many eyes.

Source:
hemmings.com

Related:
Corvettes for Sale: 2017 Corvette Yenko/SC Grand Sport
Corvettes for Sale: 1993 Corvette ZR-1 40th Anniversary Coupe with 5,817 Original Miles
Corvettes for Sale: Project 1965 396/425 Convertible on Craigslist in Arizona