"The World's Largest Corvette Dealer" will again be participating in Corvettes at Carlisle August 26-28, but it'll be going by a new name.
Kerbeck Chevrolet in Atlantic City has earned that title for the past 27 years, but the dealership is now known as Ciocca Corvette after the Kerbeck brothers sold out earlier this year to Ciocca, the owner of multiple dealerships in the mid-Atlantic region.
Gregg Ciocca, founder of the brand, will be continuing the Kerbeck tradition at this year's event in Carlisle.
"I've always had a passion for cars. I just love them, and I knew immediately that this was what I wanted to do," said Ciocca, who owns 24 dealerships with 16 brands, including Ford, Subaru, Mercedes, BMW, Honda, and of course, Chevrolet, with the recent addition of Kerbeck.
Lance Miller, co-owner of Carlisle Events, says he has been "privileged to call the Kerbeck brothers my friends" and has known them all for many years, having lived a few houses down from George (Kerbeck) initially.
"Now my family lives a few houses from Charlie and Frank (Kerbeck) – small world," Miller says. "I'm eager to create a friendship with the Ciocca family. After all… anyone that loves cars as much as I do, how could we not become fast friends? We are excited to have the Ciocca Chevrolet group with us as part of Corvettes at Carlisle weekend. By the way, be sure to stop by their tent and grab a complimentary poster for you or your friends!"
Longtime visitors to Corvettes at Carlisle have likely seen the Kerbeck tent with displays of the latest Corvettes near the stage and grandstand while free posters are available for the taking. That tradition will continue with Ciocca Corvette, and this year registered Fun Field members will receive free t-shirts with Corvettes at Carlisle and Ciocca branding on them.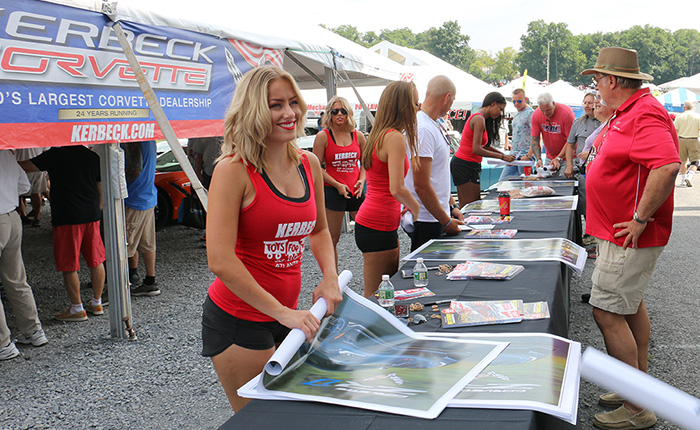 With more than 5,000 Corvettes expected to converge on the Carlisle, Pa., Fairgrounds, this year's Corvettes at Carlisle gets underway at 7 a.m. on August 26 and ends on the evening of August 28 with the return of the Downtown Carlisle Corvette parade and street party.
Along with the show cars, there will be special guests, seminars, unique displays, and plenty of options to put the wheels in motion via parades, competitions, and more. Discounted spectator tickets are available online at CarlisleEvents.com, along with Fun Field registration through Sunday, August 22 (in person from August 23-28).
In the meanwhile, interested enthusiasts can download the event guide, now available online or by way of the Carlisle Events app (available on iTunes or Google Play).

Source:
Corvettes at Carlisle

Related:
Coming to Corvettes at Carlisle? Here's What to Expect!
[PODCAST] Lance Miller Previews Corvettes at Carlisle on the Corvette Today Podcast
[VIDEO] Enthusiast Documents 22 Years of Kerbeck Corvette Posters