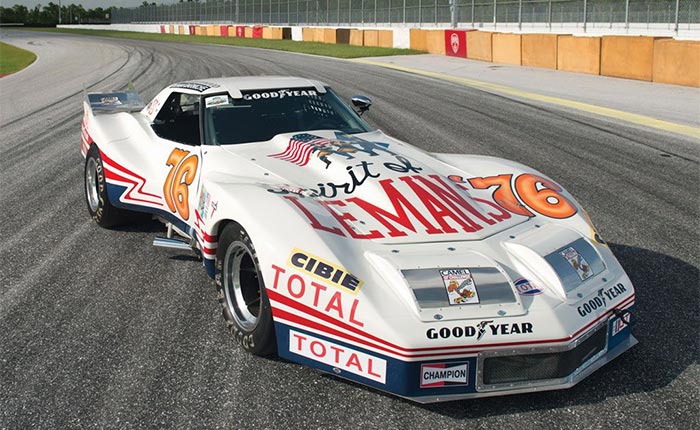 Photo Credits: RM Sotheby's

Nothing says 1970s Corvette like a John Greenwood widebody race car.
In fact, back in 1976, the John Greenwood "Spirit of Le Mans" Corvette ran from the pole position at the 24 Hours of Le Mans.
Some 45 years later, that same car arrived at the Motorsports Hall of Fame of America in Daytona Beach, Florida, where visitors will be able to see this "real beast" of a Corvette for an extended period.
"Few cars say American motorsports louder and prouder than a big-block, John Greenwood Corvette," said MSHFA President George Levy. "It's been an instant hit with our guests."
The car is one of two Greenwood Corvettes owned by Florida collector Steve Goldin.
The '70s were a golden period for Detroit brothers John and Burt Greenwood and their Corvettes, with John winning the 1970 and 1971 SCCA A Production national titles and TV star/driver Dick Smothers taking a class win at the 1972 12 Hours of Sebring. John also won the 1974 IMSA Championship Finals at Daytona, then won the 1975 SCCA Trans-Am title besides taking many other wins, poles, and fastest laps during the decade.

Greenwood cars were noted for their unique Stars and Stripes paint schemes, which resulted from a birthday gift. "I bought John a 'Stars and Stripes' sweater for his birthday and I suggested we go 'loud and proud,'" Burt explained. "Let's be an American flag. The Stars and Stripes concept was in response to a time in our country when we were struggling with many issues. 1969 stoked American pride with the Apollo moon mission but also brought 250,000 students to Washington to protest the Vietnam War. Seemed to me, regardless of your stand, we were all Americans."
Randy Wittine, a Chevrolet designer and Corvette Hall of Fame inductee, came up with some of the leading iterations of the flag motif and also executed the master modeling of the widebody Corvette.
That unique widebody stance provided space for huge tires on both ends of the car and generated more than 1,000 pounds of downforce. Under the hood was a 467 all-aluminum Chevy engine pumping out 700-725 horsepower.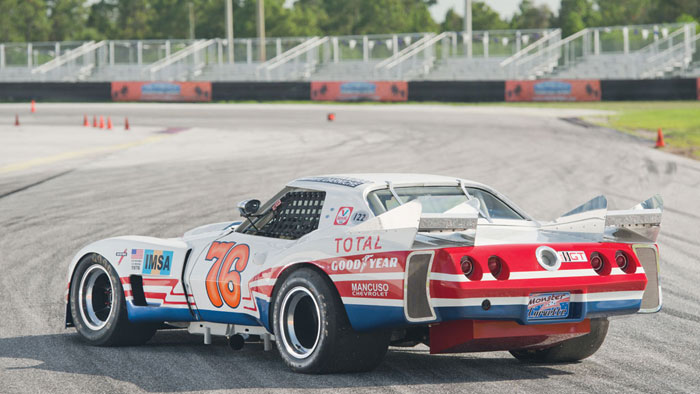 While John Greenwood died in 2015, several surviving family members – including Burt Greenwood, John's son Joe, and his grandchildren, Mallory and Logan – were on hand at the Hall of Fame to welcome the car, which can be seen in a video being unloaded at the facility on March 11.
"It's a real beast," IMSA President John Doonan said. "What Bill France Sr. and John Bishop did with IMSA, in terms of its original mission, was to allow people like John and others, who had a dream to go racing, and provided a platform that allowed them to do that at a cost-effective level." Goldin, who owns the car now, said he was "very proud to recognize and remember the significant engineering and racing accomplishments that John and Burt Greenwood brought to the Corvette racing legacy."
Also in Goldin's ownership is the "Spirit of Sebring," winner of the 1975 IMSA finale and pole position qualifier for the 12 Hours of Sebring in 1976. That car was previously owned by actor/racer Paul Newman and is slated to be displayed in May at the Amelia Island Concours d'Elegance.

Source:
Racer.com

Related:
1976 Spirit of Le Mans Corvette to be Featured in Americans At Le Mans Exhibition
Legendary Corvette Racer and Racecar Builder John Greenwood Passes Away at Age 71
Tribute Planned for Corvette Racer John Greenwood at Daytona on Nov.12