We recently took you on a journey through fifteen years of on-track advancement made by the Corvette team and their peers within the General Motors family, as proven by our colleagues at Car and Driver during their annual Lightning Lap Competition.
Now, we would like to travel out west, where Motor Trend has been lapping performance cars at Laguna Seca as a part of their annual Best Driver's Car (BDC) competition, preceding America's Best Handling Car, and for regular comparison tests, with the same professional driver behind the wheel, since 2008. The addition of Randy Pobst as an in-house hot shoe was a stroke of genius on MT's part 13-years ago! That simple decision minimized the amount of time left on the table for each car and added a layer of science to the proceedings that can't be matched by C&D's "several of us lapped the cars, and we posted the best time" approach. Each time MT heads north to the legendary 2.2-mile circuit, the only variable is the weather, and you know what they say about rain in California.
Unfortunately, for people like myself who grew up pouring over the stats on the back of their baseball cards, Motor Trend's testing has one major shortcoming compared to Car and Driver, and that's recordkeeping. On the one hand, I love that they look past the numbers in their yearly pursuit of the machine that, per head honcho, Angus MacKenzie, "delivers a balance of useable performance, accessible handling, and driver-friendly design; a vehicle with a multidimensional personality that will delight and reward the enthusiast driver on any road at any time, regardless of weather and traffic conditions," but, I don't think that a Top Gear-style lap time leaderboard would do anything but add intrigue to their greatest event. Their "Stig" Randy and those of us in the audience deserve it!
After digging through a mountain of comparison tests and BDC articles/videos, your author decided to get the MT "Hierarchy of LS Laps" jumpstarted with a GM Top-10 that features seven supercar-slaying Corvettes and three rowdy Camaros (Cadillac missed out on landing a spot by .24 of a second with the LT4-powered third-gen CTS-V!). What follows is the treasure that was unearthed:
1. 2019 Corvette ZR1 – 1:32.46
At first glance, the 92.46-second lap turned in by the Almighty Winged One seems exceptional. In truth, Best Driver's Car 2018 is a topic that can always get us fired up around here! We still don't feel like the ZR1's performance at Motor Trend's headline event was representative of its full potential. The most potent, track-capable vehicle ever produced by General Motors only stopped the clock .59 before the next car down the C7 pecking order, fell a full two-seconds behind the '16-'17 Viper ACR-E, and only registering the fourth-fastest time of the day during the 2018 edition of BDC. That doesn't sit well with us! When you read the full write-up, it is apparent that the event's on-site GM techs felt the same way, but they aren't without fault in this whole enterprise, either!
First off, they sent an automatic-equipped ZR1 to a contest that rewards joy in operation and driver- engagement above all else; the few hundredths of a second that they were hoping to gain at LS show that they didn't have their eye on the true prize of BDC (and they were paid back with a merciless dogging of the gearbox by MT's review team). More than anything else, we got the impression that both General Motors and Motor Trend had mentally written off the C7 and shifted their focus to the upcoming mid-engine Corvette. MT gave more BDC track time to Lamborghini, McLaren, and Porsche that year, while GM just shrugged it off. We wanted to see Tadge calling out Randy and his employer in a Ralph Gilles-esque fit with demands for a redo (like the C7 Z06 had at Willow Springs), but all we got were crickets and a seriously good but not great lap time. Overall, we view the seventh-generation as a rocky point in the long-standing relationship between America's Sports Car and the editorial staff at Motor Trend, but, like so many dysfunctional relationships, it didn't have to be that way!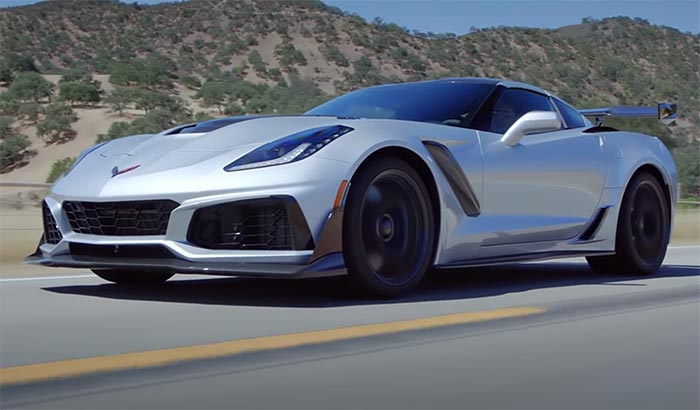 2. 2016 Corvette Z06 – 1:33.05
After sticking the soapbox dismount, we return to the action with the 2016 Z06, Z07, and its 911 GT3 RS-humbling lap-time. Even after five years have passed, the Big Nasty remains the quickest sub-$100k car that Randy has ever lapped at Laguna Seca. It may have registered one of the only DNFs in BDC history (we told you that MT and the Crossed Flags had a rough go of it between '14 and '19!), but it came back strong (in spite of the final ranking) in a three-way comparison during its sophomore year re-try.
3. 2013 Corvette ZR1 – 1:33.7
Amazingly, the PDE-equipped C6 ZR1 still wears the bronze medal two Corvette generations later! When the final-year Blue Devil stopped the LS clock in 2013, it became the fastest production vehicle ever do so… period. Its staying power on this list vs. its 7th place ranking at Lightning Lap really highlights how much value a pro driver brings to the table, especially behind the wheel of a vehicle with as hairy of a reputation as the 638 HP super-Vette.
As an added bonus, the ultimate C6's record run into the sunset led SRT to counter by creating one of your narrator's all-time favorite cars, the 1:33.62-running Viper TA. Competition is a beautiful thing!

4. 2018 Camaro ZL1 1LE – 1:34.3
The hardest of hard-core Camaros was knocked off of the podium this go-around, but at 1:34.3, it still isn't a car to be trifled with! The exotica left in this 'Maro's rim-less rearview mirror includes the Nismo GT-R, Lamborghini Aventador, and SLS AMG Black Series.

5. 2012 Corvette Z06 – 1:34.43
Hi-po C6s continue to deliver impressive numbers with Randy at the wheel! Up from 9th on the C&D list, the Z07-equipped 2012 Z06 grabs the naturally-aspirated crown at Laguna Seca. The 505-horse Z and its killer fusion of ceramic brakes and Pilot Sport Cup rubber were only outpaced by the newer, be-winged ZL1 1LE and its massive 650 HP-rating by a hair for fourth place in the all-time GM pecking order.

6. 2017 Corvette Grand Sport – 1:35.62
The C7 GS' fourth-place ranking was the biggest surprise of last week's list for many readers (and Bloggers), we knew it was fast, but 2:47 at VIR is straight-up flying! Strangely, at Laguna Seca, a smaller track where its 460 horses shouldn't hold it back as much, the C7 Grand Sport falls into the lower half of this week's top-10. MT's GS Z07 still wipes the floor with the rest of the sub-500-horsepower club, though, and, in the classic blue, white, and red livery, it looks outstanding doing it! We can attribute the GS' flip-flop with the C6Z to MT's use of a '12 model with grippier tires vs. C&D's fielding of an '11 Z, but, other than Randy, we still have no explanation for the abyss that the C6 ZR1 was able to bridge between the two publications.

7. 2017 Camaro SS 1LE – 1:37.78
The SS 1LE's showing at BDC 2016 was one of the major reasons that I became an owner of the model, in spite of my strong preference for Chevrolets with a "Z" in their name. In the LT1-powered 1LE Motor Trend's testing guru, Kim Reynolds, achieved Camaro records (this was before the 6th Gen ZL1 variants hit the block) in braking with a 94-foot stop from 60, road holding at 1.09 g's of lateral acceleration, and MT figure eight (23.3 seconds), while Randy put up a staggering 1:37.78, dethroning the 580-HP Gen-V ZL1 and the previous object of my affection, the 2014 Z/28 as the fastest Camaro ever hot lap Laguna Seca. This was all achieved on a 200-treadwear Goodyear, making the SS 1LE the fastest General Motors vehicle wearing street tires at LS, which includes [smug voice] the mid-engine 2020 Corvette Z51!

8. 2014 Camaro Z/28 – 1:37.82
The second American home of the legendary LS7 is the only General Motors product to ever walk away with the Best Driver's Car crown. Admittedly, the field in 2014 wasn't as stacked as some other iterations (2011 and the previously mentioned 2018 come to mind) of BDC, but, still, anytime the beloved Porsche 911 (the rear-engined German has won BDC four times and its Cayman stablemate earned another nod, giving Porsche more wins than any combination of TWO other manufacturers) gets involved in a magazine test, competitors should count themselves extremely fortunate if their name is the one called after the bell!

9. 2020 Corvette Stingray Z51 – 1:37.83
The car that brings the clicks finds itself at 9th on the GM leaderboard. Don't be down on the C8's performance though, an engine relocation, the addition of a dual-clutch transmission, and a 35-HP bump netted it more than a second and a half at LS compared to its predecessor. To put that into perspective, the Corvette Z06 gained a massive 145 HP between the C6 and C7 generations. All of this extra firepower only bought it .62 of a second at Laguna Seca. The huge gain with such a minimal bump in power (and a nearly identical power-to-weight ratio) leads us to believe that GM's decision to move the powerplant rearward is off to a flying start! When the upcoming successor to our listed Z06s touches its 345s(!) to the corkscrew, no car on this list will be safe!

10. 2014 Corvette Stingray Z51 – 1:38.28
Rounding out Legends of Laguna: GM Edition is the car that brought back the legendary Stingray moniker. During a post-BDC comparison test, the Z51 C7 lapped faster than the reigning BDC champ, 991 Carrera4S, AND the 731 HP Ferrari F12 Berlinetta. It also kept some serious in-house hardware off of this list. This thing outruns every V-Series Cadillac and non-Z07 C6 Z06s; that is quick! A total of 43,085 Z51 coupes rolled off the assembly line at Bowling Green during the C7's lifespan (just 3,705 in 2017, 716 in '18, and 1,728 in '19, respectively, if you are looking for a rare 'Vette at a reasonable price!), the base C7 just might be the car on today's market that best embodies the "value" proposition that has always been a staple of America's Sports Car!

Source:
MotorTrend.com

Related:
[VIDEO] Randy Pobst Hot Laps the C8 Corvette at Laguna Seca for MotorTrend
[VIDEO] Watch the Corvette ZR1's Hype Video for Motor Trend's Best Driver's Car Competition
[VIDEO] Corvette Grand Sport Competes in Motor Trend's Best Driver's Car for 2017