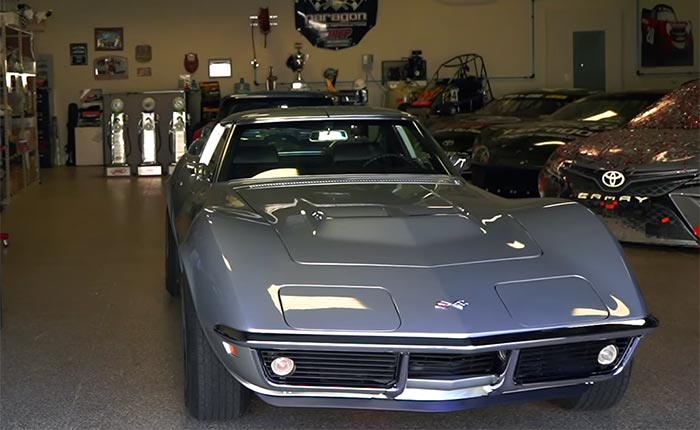 One of NASCAR's most popular young drivers is Erik Jones, who will be entering his fifth season in 2021.
The 24-year-old doesn't spend all of his time behind the wheel of his race car, though, as he recently posted this video on Facebook showing his cool collection of Corvettes and Harley-Davidson motorcycles.
One building houses his Corvettes, including a silver 1969 coupe that he restored over the course of a couple of years and is "basically a brand new 1969 Corvette now," he says.
Likely his most prized car, however, is the 1965 Nassau Blue Sting Ray coupe that once belonged to his father. Erik actually tracked down the car and brought it back into the Jones family in 2017.
His third Corvette is the one-year-only 2019 ZR1, coated in Torch Red with 755 horsepower. "It's one of the last of the front-engine Corvettes, so I definitely wanted to have that in the collection," he says.

In a red barn elsewhere on the farm he bought in March 2020, Erik keeps a pair of Harley-Davidson motorcycles.
His first purchase was a 2012 Dyna Wide Glide model, followed a few months later by a new 2020 Street Glide Special.
"I haven't had either bike for a year," he explains. "I didn't ride motorcycles up until this year really. I got the first bike and it was kinda what I was looking for and realized that I wanted a little bit different bike, so I ended up going and buying the Street Glide Special."
The new cycle has ended up being his favorite, and Erik says he's already put more than a thousand miles on it. "I ride the thing all the time," he says. "I love it, and that's been a great bike to me."

Since his new house sits on 28 acres of land, Erik says he needed "the right tractor" to take care of the property so he wound up with a Kabota 3901 model complete with attachments like a loader, backhoe, and brush hog to mow and clean up around the property.
Despite having such a nice collection of cars and cycles, Erik says there is at least one more vehicle he'd like to add – a 1967 Corvette.
"That was my dream car as a kid," he explains. "I always wanted a red one, with the black bee sting hood on it."
"Maybe one day…" he adds. "It's a matter of finding the right one and being in the right position to make a move and buy it. It's not an inexpensive car by any means(laughing), so I would really have to find the right one. But that's definitely my dream car – I've never had one of those."
Jones has joined Richard Petty Motorsports after competing for Joe Gibbs Racing the past four seasons. He has a pair of Cup wins, including the 2019 Southern 500 at Darlington.

Source:
mlive.com

Related:
Following the Death of His Father, NASCAR's Erik Jones Finishes Father/Son 1969 Corvette Project
[VIDEO] How a Father's Support and a Blue 1965 Corvette Got Erik Jones to NASCAR's Winners Circle
[VIDEO] Corvette Racing's Jordan Taylor Helps NASCAR's Alex Bowman Prep For Daytona Road Course