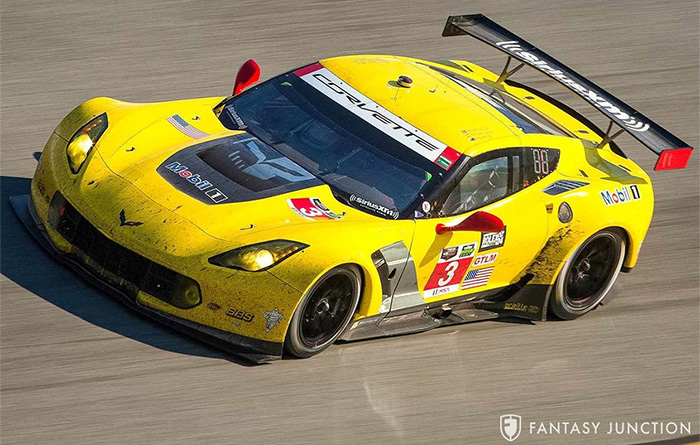 Thirty years from now, will someone be kicking himself about blowing the opportunity to purchase an authentic C7.R race car for $950,000?
While an asking price of nearly a million bucks doesn't exactly sound like a bargain, an expert with Hagerty believes it just might be a few years from now.
"It used to be that nothing was worth less than last year's race car, but those days are long gone," says John Wiley, Hagerty's manager of valuation analytics. "On the other hand, almost seven figures for a seven-year-old race car is a lot, but this is not your average used racer. A motorsport veteran with this kind of history doesn't come cheap. For example, a 1967 Chevrolet Corvette L88, which is considered the winningest L88 of all time, was recently a no-sale at $3.2 million, and that makes this 2014 C7.R look like a bargain."

Fantasy Junction out of California is offering the car for sale and notes that "unlike so many race cars that are run hard, sold to privateers, altered, and restored, chassis #003 has been delivered directly from Pratt & Miller to Fantasy Junction for consignment."
As such, this car still proudly wears its livery in yellow with black and red accents, carbon fiber body trim, and black wheels – with finishes of high quality, "certainly better than typical race car cosmetics, with excellent graphics, fine detailing, and just minor evidence of use on the body panels."

The list of modifications from the standard C7 architecture radically alter the exterior body dimensions, which are markedly notable when studying the C7.R in person. The roofline is dropped a shocking three and a half inches from the stock height and the overall width is increased to over 80 inches, a whopping seven inches more than the production C7. Wider 12.5″ front and 13″ rear tires further deliver a sinister presence to the wicked hunkered down stance of these impressive race cars.
Inside the car, a vast array of key technological advances fills the cockpit allowing the driver significant advantages understanding racing conditions with real-time feedback. The highly advanced cockpit features three Bosch digital displays with detailed digital readouts and a steering wheel inspired by F1 technology, with traction control, engine maps, and other system controls all at the driver's fingertips.

The #3 car – driven by a trio of drivers, Antonio Garcia, Ryan Briscoe, and Jan Magnussen – roared to first-place finishes at the 2015 Rolex 24 at Daytona and the 2015 Sebring 12 Hours. An accident in qualifying prevented the car from running at Le Mans in 2015, but the year before, Magnussen, Garcia, and Jordan Taylor missed another win there by 30 seconds, settling for second place behind the AF Corse Ferrari.
Unveiled at the 2014 auto show in Detroit and later at the Rolex Motorsports Reunion at Laguna Seca Raceway, this C7.R was the third of seven cars built during an impressive five-year span of motorsports competition.

Included with the sale will be spare parts valued at more than $150,000, with each part listed for the new owner. A confirmation letter from Pratt & Miller Engineering also states that the chassis #003 car is indeed the one that won the reported races as built and prepared by Pratt & Miller for the Chevrolet race program.
The future owner will have the opportunity to work with Dan Binks Racing Services, who recently retired from his position as Team Captain of Corvette's Factory Team and will be maintaining customer-owned teamcars on the historic racing circuit.

"This is an exceptional opportunity to acquire one of the most technically advanced race cars ever constructed for the GT Le Mans series," Fantasy Junction says. "With a fresh 574 hp Pratt & Miller installed in-house gm engine, nearly fresh transaxle, massive spares, and documented Daytona and Sebring wins, this phenomenal C7.R is both a remarkable competition machine and a worthy ambassador to the ongoing legacy of Corvette racing history."

Source:
fantasyjunction.com via msn.com

Related:
Corvettes for Sale: Numbers-Matching 1973 Corvette 454 for $17K
Corvettes for Sale: 1957 Silver/Red Restomod on Bring a Trailer
Corvettes for Sale: Rare 2009 Corvette Black GT1 Coupe with VIN #010