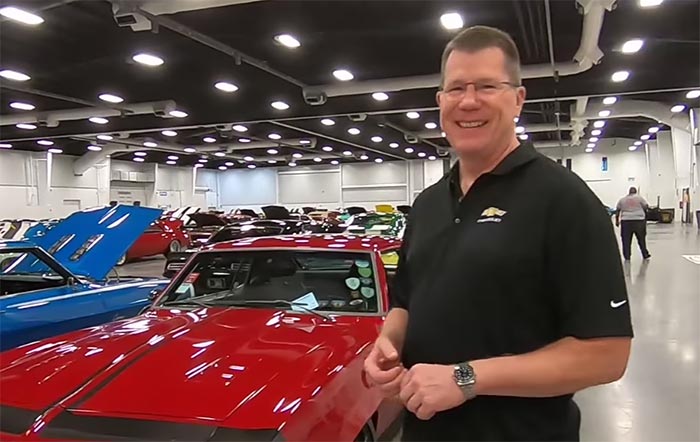 Sharing technology between its race cars and production vehicles has been important to General Motors for years, and fortunately for Corvette and Camaro enthusiasts, that relationship shows no signs of going away anytime soon.
For example, the legendary Camaro engineer who earned praise for calibrating the vehicle dynamics of modern Camaros, has just been transferred to become the Director of Motorsports Competition Engineering.
That's just a fancy way of saying Mark Stielow will now oversee GM's engineering and involvement in series like IMSA, NHRA, NASCAR, and IndyCar.
He takes the place of Mark Kent, who has been named Director of GM Defense Facility Operations.
Stielow's reputation includes the development of the fifth-generation Camaro Z/28 program. He's also a big supporter of the pro touring movement, especially related to Camaros, and enjoys restoring classic GM muscle cars with modern performance upgrades in his spare time.
Mark Kent at the 2019 Petit Le Mans. Photo: Keith Cornett

Kent, meanwhile, will use the experience he gained "in the fast-paced motorsports world" to help with the rapidly growing GM Defense section of the company, GM said in a press release.
Earlier this year, GM Defense received a production contract worth $214.3 million to build, field, and sustain more than 2,065 of the U.S. Army's new Infantry Squad Vehicles, basically a Colorado ZR2 on steroids, at a new facility in North Carolina.
In another related move, GM snatched Dr. Eric Warren away from Richard Childress Racing to become its Director of NASCAR Programs. He'll oversee competition duties of GM's NASCAR teams and work to improve overall production integration and technical strategies within the sport. He'll also lead GM's new racing and performance center in Concord, North Carolina.
The latest moves come only weeks after GM reassigned its team of musclecarsandtrucks.com


Related:
[VIDEO] Watch the Corvette C8.R Presentation from Petit Le Mans
[VIDEO] Corvette Racing's Doug Fehan at the 2020 Rolex 24 Corvette Corral
[VIDEO] Watch the Reveal of the 2019 Corvette Grand Sport Drivers Series