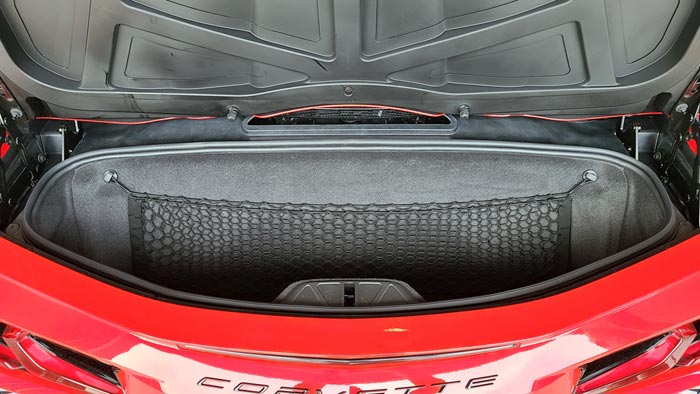 Photo Credits: Jeremy Welborn

With the 2020 Corvette Convertibles now showing up in customer's garages, we are learning some new tidbits about the car as well as how it's different from the mid-engine Coupe model which came out earlier this year.
We know that having adequate storage space was a must when designing the new Corvette as enthusiasts like to travel. That's why the coupe and convertible models both offer storage space in the front and rear of the car. As the Convertible top no longer encroaches on the rear storage area because it now folds on top of the engine, there are no compromises for storage when it comes to the convertible.
The rear storage area of the C8 Corvette Coupe

As for the coupe, there was also the design requirement of needing to store the removable roof panel when drivers are looking for that "top off" driving experience. Designers came up with a solution that allows the owner to store it in the rear trunk where it can be safely locked into place when not on the car.
Because the "engine packaging" requirements are slightly different for both cars as well, it shouldn't be a surprise that the rear storage areas are shaped differently for each model.

CorvetteBlogger contributor Jeremy Welborn found that out last week as he was loaded up his luggage to make the drive from Maryland to Oklahoma in his dad's new's 2020 Corvette Convertible. Jeremy owns a Z51 Coupe and has already done several road trips in his car. He found that the trunk on the Coupe model is slightly larger due to how the removable roof panel locks into place at an angle, while the Convertible model space is slightly impacted by the coolant reservoir that we saw when Jeremy explored the Convertible's engine compartment.
Below are two photos and Jeremy stuck a tape measure on each one so you can see the difference.
First, here is the Coupe's trunk which measures in at 23 inches wide from the latch to the forward edge.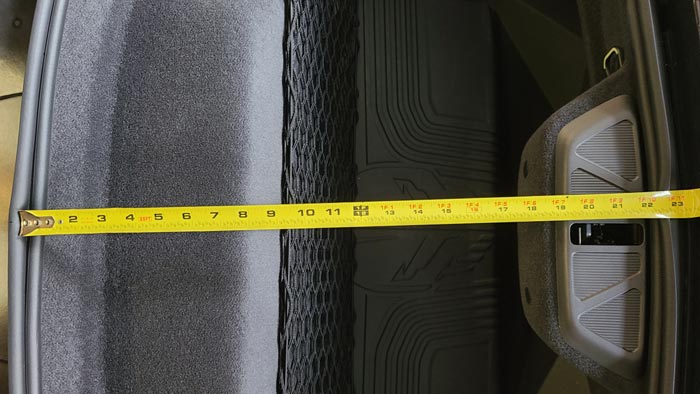 The Convertible's trunk measures in at 17 inches wide as the forward edge is more vertical than that on the Coupe: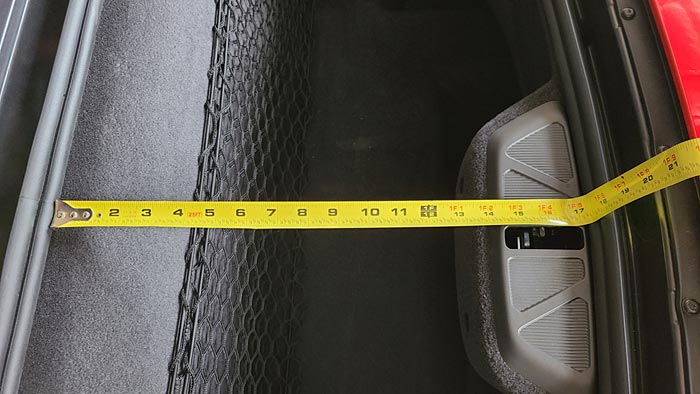 While that Coupe's trunk might offer just a little bit more space overall, both still appear to offer decent storage capacity when it comes to carrying luggage, golf clubs, and other similar-sized cargo.

Source:
Photos by Jeremy Welborn
Related:
[VIDEO] 2020 Corvette Convertible Review Plus Differences Between the Z51 and Base Packages
[VIDEO] First Look at the 2020 Corvette Convertible's LT2 Engine Bay
[VIDEO] 2020 Corvette Shows Off 535 Mile Fuel Range, Averages 29.7 MPG on Trip to NCM