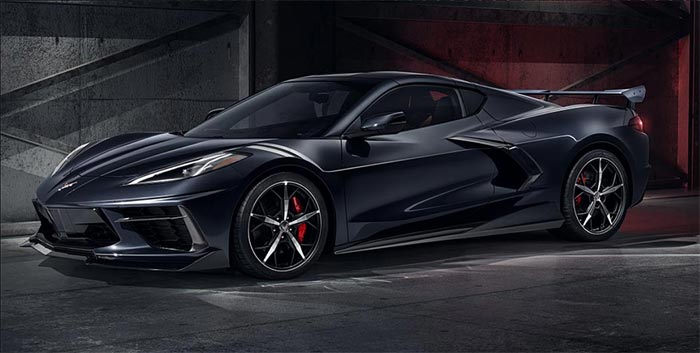 Now that Chevy has taken the plunge into the mid-engine world, it appears they're going all-out to make future higher-performance editions of the C8 Corvette even more radical.
Muscle Cars & Trucks says it's gotten some inside information that the upcoming Z06 will have three different rear wing possibilities.
Of course, the 2020 Corvette Stingray started out with three possibilities for its rear end – no spoiler at all, a modest Z51 wing, or a radical but now discontinued due to production problems caused by COVID high wing spoiler.
According to the MC&T report, the base Z06 will feature a wing similar to the Z51's. A second wing similar to the C8.R's will be another possibility, including a kink in the middle to allow for better rear visibility. Motor1.com believes this second wing might be the one featured with an optional Z07 package that could also include other aero parts and lightweight carbon fiber wheels.
The third option for the Z06 is where things really get high-tech. We've told you before about GM's patents for active aero technology, and Motor1.com suggests that this wing could feature active adjustments not only to the wing but also to the side flaps – all part of a comprehensive active aero package with wings and vents all around the car, maybe even incorporating active ride height adjustment, too.

Based on these leaks, if they're accurate, the upcoming Z06, slated to be released as a 2022 model, should be a world-beater! And just think, rumor has it that two more higher-performance versions (the ZR1 and the Zora) are in the works, too!
Definitely great times lie ahead for Corvette enthusiasts!

Source:
musclecarsandtrucks.com

Related:
[SPIED] Listen to These C8 Corvette Z06 Prototypes as They Leave a Park
RUMOR: Active Aero and 'R-Spec' Michelins Coming to the 2022 Corvette Z06
[VIDEO] C8 Corvette Z06 Coupe and Convertible Prototypes Spied with Center Mounted Exhaust